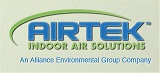 "AIRTEK has experienced significant growth this year and we are excited to have Jimmy Nguyen managing our new office..."
San Diego, CA (PRWEB) December 13, 2011
AIRTEK Indoor Air Solutions, a leader in commercial and residential HVAC / air duct cleaning, announced today that it has opened a new office in Orange County. The expansion is part of the company's ongoing growth in California.
Jimmy Nguyen has been promoted to branch manager and will oversee the day to day operations of the office. Nguyen has been with the company for seven years, coordinating and directing sales teams; coordinating and managing corporate marketing efforts; and developing training and educational programs for clients.
"AIRTEK has experienced significant growth this year and we are excited to have Jimmy Nguyen managing our new office," said Matt Kelly, branch manager for the San Diego office. "Jimmy will allow us to enhance the service to our existing clients in the area while further developing our client base throughout Orange County."
The new office is located at:
760 E Debra Lane
Anaheim, CA 92805
1-877-858-6213
Headquartered in San Diego, California, AIRTEK has over 20 years of industry experience at improving indoor air quality. Services include air duct cleaning and sanitizing for commercial, residential, and marine clients; infectious control, furnace and coil cleaning; dryer vent cleaning; electrostatic air filters; and kitchen exhaust cleaning services.
About AIRTEK
AIRTEK is an industry leader in commercial and residential duct cleaning, kitchen exhaust hood cleaning, dryer vent cleaning and power washing. With a focus on achieving a cleaner, healthier and more energy- efficient indoor environment; AIRTEK has successfully completed over 70,000 duct cleaning projects in Southern California. For more information, go to http://www.air-tek.net.
Contact:
Roxana Zenkel
Marketing Specialist
Alliance Environmental
(626) 633-3516
roxanazenkel(at)alliance-enviro(dot)com
###