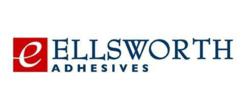 Germantown, WI (PRWEB) December 14, 2011
Ellsworth Adhesives is pleased to announce the promotion of three distinguished leaders within the corporation. Roger Lee has been promoted to Vice President and General Manager - Specialty Chemicals Division, Jay Richardson appointed to Director of Sales – Engineering Sales Representative (ESR) Group, and Andre Rivard named Eastern Region General Sales Manager.
Roger Lee previously served as President of the ESR Group, where he was a driving force behind maintaining and expanding sales territories throughout North America. In his new role, Lee will be challenged with the overall performance of Ellsworth Adhesives' Specialty Chemical Division in the United States, Canada, and Mexico.
Jay Richardson formerly served as General Sales Manager to the ESRs in Canada and the Eastern United States. As the new Director of Sales, his proven skills and business acumen will serve Ellsworth Adhesives' ESR group well.
Replacing Richardson as Eastern Region General Sales Manager is Andre Rivard, who served as a very successful ESR for Ellsworth the past four years. Rivard is well-suited for his new position, bringing prior sales management experience and the skills needed to sustain and advance Ellsworth's presence throughout the Eastern Region.
"Lee, Richardson and Rivard have proven themselves to be invaluable assets to Ellsworth Corporation, and we are enthusiastic about continued growth and improvement under their leadership in 2012," commented Mike McCourt, Global President of Ellsworth Adhesives – Specialty Chemical Division.
About Ellsworth Adhesives
Ellsworth Adhesives is the world's largest distributor of adhesive products and equipment. Ellsworth Adhesives is a value added supplier of adhesives, sealants, coatings, encapsulants, tapes, releases and lubricants from leading international manufacturers including 3M, Bostik, Dow Corning, Dymax, Emerson & Cuming, Fisnar, Loctite, Lord, Permabond, Techcon and many others and offers the most comprehensive level of technical expertise available. Ellsworth Adhesives operates sales offices and warehouses in the United States, Canada, Mexico, Brazil, China, Hong Kong, Malaysia, Australia, France and Thailand. Ellsworth Adhesives can be contacted directly at 1-800-888-0698 or by logging onto http://www.ellsworth.com.
###