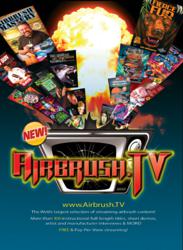 You can view full-length instructional DVD's on airbrushing and other subjects online for only $4.95
Allenwood, NJ (PRWEB) December 14, 2011
Airbrush Action Magazine has launched the largest offering of airbrush instructional content on the internet through Airbrush.TV, offering more than 100 of its instructional DVD and VHS titles, demos, and artist interviews, all in one place. Airbrush.TV will feature pay-per-view and free streaming of full-length titles and newly shot short step-by-step demos and interviews with industry-leading artists and manufacturers
"We had the vision for Airbrush.TV for many years—long before anyone else—but held out for fear of stepping on our vendors' toes and perhaps affecting their sales, said Cliff Stieglitz, Airbrush Action's publisher. "But, with the ability to include art store/airbrush retailers as affiliates, we finally gave the project the green light."
Viewers will able to watch titles such as Ultimate Airbrush Effects with Terry Hill, Power Skulls with Eddie Davis, Power Portraits, Pinstriping Basics, Dagger Pinstriping, Introduction to Airbrushing, the super popular Cross-Eyed series, and the rest, on the internet and smart devices. You can view full-length instructional DVD's, on airbrushing and other subjects, online for only $4.95 per view, for three days. Viewers can instantly watch pay-per-view and free titles streaming over the Internet to the smart device of your choice.
For more information about Airbrush.TV and Airbrush Action Magazine, visit http://www.airbrushaction.com
About Airbrush Action Magazine:
Airbrush Action, established in 1985, is the longest running airbrush magazine in history, and is distributed internationally through Barnes & Noble, Books A Million, 7-11, all branches of the military, and many other mainstream outlets. Airbrush Action is edited for airbrush enthusiasts, art professionals, and covers all popular applications of airbrushing, including body art, automotive custom painting, T-shirt airbrushing, tattoo art, pin-up art, hobby/model uses, illustration, fine art, and much more.
For interview opportunities and media requests, please contact Bridget Dean at 540.842.7776 or bridgetdeanpr(at)gmail(dot)com.
###