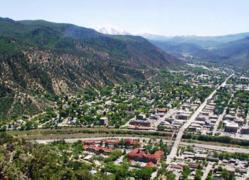 ILoveGlenwood.com is a great place to find local hot spots, specials and things to do in Glenwood Springs
Glenwood Springs, Colorado (PRWEB) December 15, 2011
ILoveGlenwood.com, a premiere website for Glenwood Springs, Colorado, is proud to announce that they've included a hotel and swim package on their website. For only $134 per night guests can get a room at either the new Residence Inn Glenwood Springs Hotel or the Courtyard by Marriott which includes two adult passes to the Glenwood Hot Springs. This is a great getaway offer which won't last long, so take advantage of it today.
ILoveGlenwood.com shows the best that Glenwood Springs has to offer. From special packages to Glenwood Springs winter events and local restaurants, ILoveGlenwood.com helps open Glenwood Springs to the entire world.
Take a minute to browse ILoveGlenwood.com for hotel offers, restaurant specials and more.
###