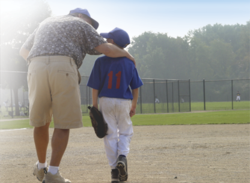 Compared to our previous process, screening our volunteers is so much easier with KidSafePlus because of its case management capabilities, along with robust reporting to ensure compliance.
Saratoga Springs, NY (PRWEB) December 13, 2011
Recent scandals involving high-profile coaches are a sobering reminder of the need for vigilance in safeguarding children.
SportsSignup, based in Saratoga Springs, New York, is helping to address this need with a proprietary service known as KidSafePlus®, a comprehensive criminal background check management system that is designed specifically for youth sports organizations.
Developed in partnership with LexisNexis®, KidSafePlus offers youth sports leagues access to accurate, affordable, private background screenings of coaches, volunteers and officials who supervise or otherwise have regular contact with young athletes.
"Volunteer-run youth sports organizations, unlike big corporations, typically do not have the infrastructure or experience to properly screen volunteer applicants, and many organizations don't even know where to start when it comes to background checks," said Anthony Bruno, CEO of SportsSignup. "There are laws that apply to background screening. In addition to educating our customers on best practices to comply with these laws, our job is to make the entire vetting process easy, secure, and affordable," continued Bruno.
To complete a background check using KidSafePlus, the coach/volunteer completes a secure online form, then the program combs a database of over 250 million criminal records compiled from numerous sources. In addition to LexisNexis proprietary data, the search includes fugitive files and government watch lists, sexual and violent offender registries, state and county criminal record repositories, and state departments of corrections. When adverse records are found, a case is automatically opened in KidSafePlus so the organization can complete the vetting process based on their own policies.
Dave O'Grady, a youth sports administrator from Prospect Heights-Wheeling Youth Baseball & Softball (PHWYBS) in Prospect Heights, Illinois, recently helped to implement KidSafePlus for his 700 player organization. "Compared to our previous process, screening our volunteers is so much easier with KidSafePlus because of its case management capabilities, along with robust reporting to ensure compliance," said O'Grady. "Using SportsSignup's online sports registration and roster management service together with KidSafePlus gives us confidence that 100% of our managers are screened, and screened well," concluded O'Grady.
According to the company, KidSafePlus is available as a stand-alone service or integrated with online registration and roster management services.
For more information, visit http://www.SportsSignup.com
About SportsSignup
SportsSignup, owned and operated by League Sports Services LLC, provides sports organizations and event organizers with easy-to-learn and easy-to-use integrated Software-as-a-Service (SaaS) solutions to facilitate online sports registration, e-commerce fundraising, and coach/volunteer background check management. Since 2003, the company has been dedicated to operating a secure, affordable, and hassle-free online service suite that enables administrators from thousands of soccer, football, baseball, lacrosse, basketball, track & field, and many other sports organizations to easily automate many aspects of their duties. For more information about SportsSignup, please visit http://www.sportssignup.com.
©2011 League Sports Services LLC. The information contained herein is subject to change without notice. League Sports Services LLC shall not be liable for technical or editorial errors or omissions contained herein. KidSafePlus and the SportsSignup logo are registered trademarks of League Sports Services, LLC. All other trademarks mentioned herein are the property of their respective owners.
###