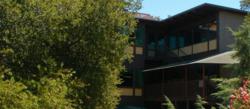 Palo Alto, Calif. (PRWEB) December 12, 2011
Palo Alto University (PAU) a private, non-profit, higher education institution that combines the advantages of a professional school with a traditional university, recently hosted its second Town and Gown event at the Stanford Faculty Club. The gathering focused on many of the challenges facing Santa Clara County youth and discussing ways the university and community could work together to provide greater resources for children and families. A panel of three speakers addressed the group of mostly non-profit organizations and elected officials, including Robert Russell, Ph.D., Director of Clinical Training at PAU, Anne Ehresman of Project Cornerstone, and Jorge Wong, Ph.D., Director of Behavioral Health Services for Asian Americans for Community Involvement (AACI) and PAU faculty member.
"The goal of this month's Town and Gown was to find out how non-profits and governmental services could collaborate to bring more resources and services to bear on existing, known needs for children and families in the community," said Town and Gown organizer and PAU's VP for Business Affairs and CFO June Klein, EdD. "There is redundancy between these groups and we need to collaborate to be more effective and efficient in delivering these services."
Panelists outlined many of the key issues facing teens, ranging from interpersonal relations with parents and peers, to bullying, to issues of socioeconomic and ethnic diversity. Following the presentations, the group of attendees brainstormed ways they could pool resources to maximize resources to best serve the community.
Ms. Ehresman of Project Cornerstone, tackled the issue of what makes children thrive and explained that kids need "developmental assets" when growing up, or the social and emotional building blocks they need to succeed in life. "Children with 30-40 assets are able to thrive which leads to better performance in school and greater happiness overall," said Ms. Ehresman. "By contrast, those with 20 or less are vulnerable and move toward the 'at risk' category the lower we go."
Dr. Russell of PAU walked the group through some alarming stats on bullying, revealing one in five to six children or adolescents report being bullied, and stressed the importance of learning the signs that your child may be a victim of bullying. Dr. Russell shared that no children are unaffected by bullying in school, on the playground or in the neighborhood. He explained that the best way to prevent bullying is to talk with your kids and listen to them on a daily basis and be a good example of kindness of leadership. He also noted that it is important to spend time at school during recess, as 67% of bullying happens when adults are not present.
Dr. Wong of AACI focused on the issue of race, disclosing that 47% of Santa Clara County residents are non-white, 36% are foreign-born residents, and 36% are first-generation children of immigrants. "When thinking about how to improve the lives of children in Santa Clara County, it is important to also factor in the population's ethnic and socioeconomic background," said Dr. Wong. "You will quickly see the inequities that exist in the Asian population, where 21% of Cambodians and 11% of Vietnamese live below the poverty level, 24% of Asians overall do not have health insurance, and overall Asians have the highest domestic violent death rate."
At the event, Dr. Klein set up tables of eight, strategically arranging folks so as to have broad representation from stakeholders at each table. For instance, a typical table had a PAU faculty member, a vice president from a community organization, a PAU staff member and an elected official. "To really get the creative juices flowing, I wanted people to stretch beyond their comfort zone and by placing them with folks from different professional backgrounds, we were able to accomplish just that," continued Dr. Klein.
Some of the ideas generated from the brainstorm included having:

Developing a referral mechanism that would allow various groups to receive referrals based on their expertise and allow people in need to easily get to the right agency
Providing PAU interns for both the Santa Clara County Office of Education and at Santa Clara County public schools
Offering free screenings for depression and anxiety for children and adolescents in the community through PAU's Kurt and Barbara Gronowski Clinic
Finding ways for PAU to collaborate with more local agencies like HEARD and the YMCA to help teenagers with mental health issues and more preventive services to improve resiliency for teenagers who are at risk.
•Creating opportunities for PAU students help with mentoring or advising middle and high school students to talk about struggling with the stress and pressures of becoming adults
Dr. Klein will be working with PAU staff to develop action plans for many of the recommendations.
"These are just a handful of the ideas generated from the brainstorm," said Allen Calvin, Ph.D., President of Palo Alto University, "and the group could have easily spent several hours more but we ran out of time. It just further illustrates the need for these types of gatherings, and I commend June for adeptly pulling together such an outstanding group to tackle these important issues."
For more information about future Town and Gown events, please contact Dr. Klein at jklein(at)paloaltou(dot)edu. For more information on PAU, please visit http://paloaltou.edu.
About Palo Alto University
Founded in 1975, the Pacific Graduate School of Psychology reincorporated to Palo Alto University in 2009. A private, non-profit, higher education institution that combines the advantages of a professional school with a traditional university, Palo Alto University provides undergraduate and graduate students small class sizes with renowned faculty and impressive clinical training resources through the university's cooperative relationships with Stanford University, Golden Gate University and Palo Alto Veterans Health Administration. The positive results of this strategy can be seen in students' placement in high quality internships, outstanding test scores on the licensing examination, and successful careers.
About the Kurt and Barbara Gronowski Clinic
The Kurt and Barbara Gronowski Psychology Clinic at the Pacific Graduate School of Psychology (PGSP) is a community-based psychology training clinic and treatment center dedicated to providing high quality, evidence-based, clinical services to adults, older adults, adolescents, children, and families in our community.
Media Contact: Elena Arney Palo Alto University, 530.386.5932, elena_arney(at)yahoo(dot)com.
###