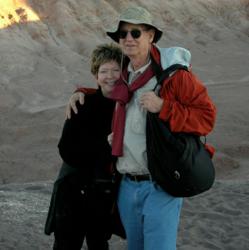 I was shocked. The proposals are so detailed and submitted months in advance, you just put them out of your mind. When we were both notified within a few weeks of each other, we couldn't believe it. --Holly Beene
Glendale, AZ (PRWEB) December 14, 2011
Two Glendale Community College faculty are Fulbright Scholar Grantees for the 2011-2012 academic year. The wife and husband team of Holly McKinzie Beene, human communication, and Leon Beene, history, will be posted to Eastern Europe during the spring 2012 semester.
As for the likelihood of both proposals being awarded in such a highly competitive program, both agree it was more than a surprise.
"I was shocked," said Holly Beene. "The proposals are so detailed and submitted months in advance, you just put them out of your mind. When we were both notified within a few weeks of each other, we couldn't believe it. We had long conversations about the best course of action, but then we circled back to reinvention, and decided we could amplify the experience if we were willing to live about 150 miles apart for a few months."
Holly McKinzie Beene, GCC Faculty Emeritus in communication and world languages, has been awarded a 2011-2012 Fulbright Scholar lecture/research grant at the Vasile Alecsandri University of Bacău, Romania, according to the United States Department of State and the J. William Fulbright Foreign Scholarship Board. Beene is an interculturalist whose academic specialization is organizational culture and behavior.
While in Romania, she will teach two graduate seminars in intercultural communication, one of them specifically focused on cultural communication and new media. In addition, the university department has requested that she facilitate a digital storytelling workshop and help establish an American Studies Club for students.
Leon Beene, GCC Faculty Emeritus in history, has been awarded a 2011-2012 Fulbright to teach in the American Studies Center, Moldova State University, in Chisinau, Moldova. While his original academic specialization was Latin America, his secondary field is history of the Americas. He taught United States history at GCC from 1975-2000 and was a faculty associate at ASU West until 2009. Fall 2011, at GCC, he taught U.S. History, 1945 to the present.
In Moldova, he will teach two graduate courses, one on American Foreign Policy and the other on U.S. history in a global context.
Beene said, "Unfortunately, even history majors in U.S. colleges and universities are well into their degree programs before they spend much time with contemporary global themes. The university has given me a lot of leeway in designing these seminars, so my intent is to approach American studies in a broader context and a narrower time-frame -- post WWII -- than they may have studied in other classes."
The Fulbright Scholar Program, America's flagship international educational exchange program, is sponsored by the United States Department of State, Council on the International Educational Exchange of Scholars. Since its establishment in 1946, the Fulbright Program has provided scholars, graduate students, and teachers from other countries the opportunity to observe each others' political, economic, educational and cultural institutions, to exchange ideas and to embark on joint ventures of importance to the general welfare of the world's inhabitants.
Glendale Community College is one of the 10 regionally accredited Maricopa Community Colleges.
###