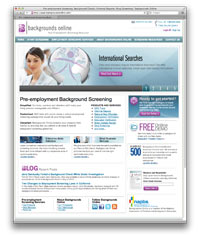 When a business achieves global success,it requires a background check provider that offers services everywhere they operate.
Sacramento, CA (PRWEB) December 13, 2011
Backgrounds Online, today announced their newly expanded International Background Search – a service that provides credit reports, identity verifications and criminal records reports to businesses with worldwide hiring and pre-employment screening needs. Obtaining background information for potential employees is a painstaking and legally complicated process in many countries. Backgrounds Online supplies the knowledge and experience that is required to successfully complete these complex data retrieval scenarios.
An International Presence
The business world has no boundaries. More businesses than ever enjoy a global presence these days. One of the many challenges that accompanies this level of success is maintaining consistent hiring practices and background screening procedures.
Backgrounds Online has expanded their international screening services to enable customers to maintain uniform background screening policies regardless of where a hiring need arises. "When a business achieves global success," said Christopher Ballas, CEO of Backgrounds Online, "it requires a background check provider that offers services everywhere they operate. Backgrounds Online fulfills that need by providing screening in more than 192 countries."
Credit Reports
Every country enforces unique laws regarding the release of financial information about their citizens, which makes acquiring credit records an intricate endeavor. Employers are often stonewalled by laws that stipulate an individual's financial history may only be shared with authorized credit providers.
Backgrounds Online currently provides access to credit reports in more than 70 countries, and continues to expand the scope of this service. The company is familiar with, and sustains strict adherence to laws that govern the availability of credit information within each nation, state and territory where this service is offered. Preparing an international credit report involves a comprehensive search for bankruptcy data, civil litigation and any other legally accessible information about an individual's credit history.
Identity Verification
Most countries uphold strict regulations about the accessibility of data that can be used to identify a particular individual. Backgrounds Online remains current on these regulations, and compliant to each nation's distinct privacy laws.
Businesses with international hiring needs may utilize Backgrounds Online for the verification of a variety of foreign identity documents. These include passports, national identity cards, driver's licenses and most any type of identification a candidate provides.
Criminal Records
Criminal records are publicly available in the United States, but that is not the case in most countries. When searching for international criminal records, it is essential to submit a request to the proper source. This varies from country to country, and may entail requesting information at a national level or petitioning the appropriate authorities within various states, cities or districts.
Backgrounds Online provides a criminal records search in most every nation. The company ensures that its clients only receive data that was obtained through proper channels and may therefore be used to make hiring decisions.
Because every nation has diverse laws, the contents of a criminal records report can vary depending on the location of an applicant. Examples of the types of data these reports include are:

Misdemeanor records
Felony records
Declarations from local authorities
Specific details about offenses
Legal Risks From An Improperly Run International Background Search
Despite the difficulties of running international background checks, every business must perform due diligence throughout the hiring process. It is imperative, however, for global businesses to utilize a service that is familiar with and compliant to the ever-changing regulations associated with international background searches.
Improperly obtaining background information can put a business at risk of legal repercussions. This may include lawsuits, legal actions from foreign governments and the United States, or even criminal charges.
Backgrounds Online newly expanded International Search service gives employers all the legally available background information about applicants located in most every country in the world. To learn more, visit the Backgrounds Online International Searches page at http://www.backgroundsonline.com/international-searches.html.
About Backgrounds Online
Backgrounds Online provides authoritative background screening, drug screening and related recruitment solutions. Since 1997, Backgrounds Online has helped improve and accelerate the pre-employment screening process for every type of business, from small startups to Fortune 500 corporations. For more information, visit http://www.backgroundsonline.com.
###