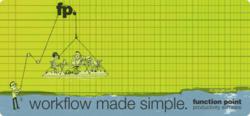 We are very excited to be launching this substantial re-design of our user interface while at the same time adding features that our clients have been requesting and setting ourselves up for some major upgrades in 2012
(PRWEB) December 12, 2011
Function Point Productivity Software Inc. (functionpoint.com), a worldwide leader in CRM, time tracking, invoicing and marketing project management software for traditional and interactive advertising agencies, design firms, and web development companies, is pleased to announce that it successfully launched its newest version of the software (fp. version 9.2).
"Approximately two years ago we embarked upon the redevelopment of our leading traffic and financial management tool, and this is the third major release we've launched in 2011" stated fp. founder and CEO Chris Wilson. "We are very excited to be launching this substantial re-design of our user interface while at the same time adding features that our clients have been requesting and setting ourselves up for some major upgrades in 2012" said Wilson.
Function Point has been strategically re-writing its marketing workflow management software with a focus on providing small to medium sized creative and design firms a business tool that will help increase profitability and ease the burden of clerical and financial work for service companies who want to maximize their billable time.
Upgrades included with fp. 9.1 and 9.2 are:
1. New system colors throughout
2. A re-written top navigation bar
3. Added functionality with the use of notes and staff collaboration within fp.
4. The addition of both multiple and drag & drop file uploads
5. Added functionality for the fp. client portal
6. New alerts available for staff and clients
7. A new, more robust log-in mechanism
8. A new cost field was added to the estimate
9. Override capabilities were added to the estimate when staff is selected
10. Auto-creation of purchase orders from the job financial tab
11. Multiple back-end upgrades to set-up the launch of fp. 10 in 2012 with a major focus on calendar functions, resource allocation and traffic management.
About Function Point
Function Point Productivity Software Inc. (Function Point) is a web-based software as a service (SaaS) company, and is located in Vancouver B.C. The company was founded in 1997 and is a leader in workflow management software for advertising agencies, design firms, and web development companies. The software includes modules for customer relationship management (CRM), creative agency timesheet and job tracking, project management, purchase orders (PO's), basic insertion orders, expense tracking and invoicing, as well as optional components for client collaboration, online design proofing and an integration to popular accounting packages such as QuickBooks and Simply Accounting. There are currently over 2800 active clients using the system as their primary task management tool.
With clients around the world, including Canada, the United States, Singapore, the UK, Australia, South Africa and the Caribbean, the Company is truly international and continues to work hard at creating the perfect business tool for increasing agency efficiency and profitability. Companies in all facets of the creative industries us Function Point, including ad agencies, digital agencies, Web development companies, interior designers, architects and consultants to name a few.
The company prides itself on its best-in-class customer service, and backs everything with a 60-day, 100% money back guarantee.
@functionpoint
###