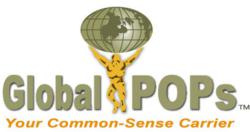 Piitsburgh, PA (PRWEB) December 21, 2011
GlobalPOPs is the nation's largest wholesale carrier for dialup access. It provides the network for internet dialup access that include small local ISP's to the large national providers. It recently signed an agreement with one of the largest ISP's in North America. Although dialup continues to decrease in usage, dialup is still how millions of end users connect to the internet. GlobalPOPs continues to provide wholesale dialup access and aggressively grow it through acquisitions.
"As CLEC's and ISP's decide to exit the dialup business, GlobalPOPs is that last remaining carrier that is willing to buy and support those end users," stated Dan Ravenstahl, President of GlobalPOPs. GlobalPOPs has recently worked out several deals were CLEC's still retain the traffic, but GlobalPOPs handles the managed modem service for CLEC. GlobalPOPs has also bought several ISP's within the last few months which has helped grow it subscriber base.
Sebastian Kiely, IT Manager for GlobalPOPs, recently announced the launch of new wholesale services that would allow ISP's and resellers to offer private label services which can then be resold to end-users. GlobalPOP's Hosted VoIP PBX platform will be launching soon and will include an aggressive per seat cost and no setup costs for a limited time. GlobalPOPs also plans on adding private label cloud services such as an MVNO, web hosting and other such services. GlobalPOPs has been providing wholesale dialup for over 10 years now. As new IP services keep emerging, GlobalPOPs will be at the forefront to help carriers, ISP's and resellers deliver those services to their end-users.
###