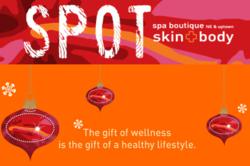 The Lomi Lomi massage is probably our most lauded treatment offering.
Minneapolis, MN (PRWEB) December 13, 2011
Spot Spa Boutique, one of Minneapolis' most highly-rated facilities for skin care, massage, waxing and more, is saying thanks to customers who have helped the spa reach its 10 year anniversary. Spot Spa Boutique will offer significant discounts on products and services, as well as an attractive gift card offer (buy a $100 gift card and receive a free $25 gift card) on Saturday, December 17.
"Spot is a hidden place that has an urban feel," said owner Nell Rueckl. "Our accolades have been many, but the Lomi Lomi massage is probably our most lauded treatment offering." "Hawaiian Lomi Lomi Massage is deep and nurturing," explained Rueckl, "combining repetitive upper body movements with hula-inspired footwork. The technique firmly yet effortlessly releases muscular and emotional tension, leaving the body rejuvenated and lighter." Learn what to expect from massage therapy here.
With 13 practitioners between two locations, Spot Spa Boutique services include deep tissue massage, Ashitatsu, Shiatsu, Thai Massage, and the Spa will soon offer acupuncture and traditional Chinese medicine. "We carry effective, reputable skin care lines from DrR. Hauschka Skin Care and Arcona," said Rueckl. "Both are pioneers in natural skin care and holistic anti-aging products."
Rueckl has owned and operated Spot Spa Northeast for ten years, and a second location in Uptown for the last seven years. She has practiced massage therapy since 1992, and learned her craft at the Aveda Destination Spa in Osceola Wisconsin, where she was exposed to many modalities while building her technical expertise.
Spot Spa Boutique has two locations – in Minneapolis' Uptown neighborhood at 1600 West Lake St., Upper Level, and in Northeast Minneapolis at 401 E. Hennepin Ave. NE.
For more information, contact the Northeast location at 612.331.4182, and the Uptown location at 612.823.SPOT (7768).
###