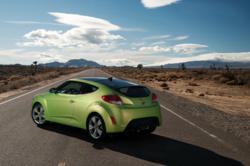 (PRWEB) December 15, 2011
Following in the footsteps of Hyundai's Tau V8 engine, the Hyundai 1.6-litre Gasoline Direct Injection (GDI) Gamma engine has been named one of the Ward's 10 Best Engines by WardsAuto World.
Through the use of GDI technology, the Gamma 1.6-litre engine delivers a peak output of 103kW at 6,300 rpm and maximum torque of 166 Nm at 4,850 rpm. However, GDI is only part of the story, as the new Gamma engine also features Dual Continuously Variable Valve Timing (CCVT), an electronic throttle control, a roller timing chain, variable induction and innovative anti-friction coatings such as CrN (chromium nitride) Physical Vapor Deposition (PVD) coating and Diamond Like Carbon (DLC) coating.
The 1.6-litre GDI Gamma engine will power the innovative Veloster coupe when it launches in Australia in early 2012.
# # #