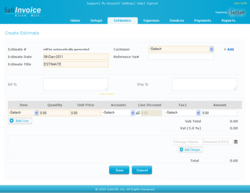 SutiInvoice continues to be driven by our customer feedback and feature suggestions." - said N.D. Reddy, founder and CEO of SutiSoft, Inc.
Los Altos, CA (PRWEB) December 13, 2011
SutiSoft Inc, a trusted provider of web hosted and enterprise solutions, today announced a new release of SutiInvoice 2.0, its automated invoice management solution. The new release include features such as estimates, late fees, expenses, customer portal and the ability to customize invoice templates which facilitate faster invoice processing.
The new release provides easy conversion of estimates, expenses to invoices, and the ability to add discounts & additional charges accelerating payments & approvals.
New Features Include
Estimates
Create & send estimates to customers. Upon approval, convert estimates to invoices.
Customize Invoice Template
Customizable templates enable users to create invoices based on their requirements.
Expenses
Categorize expenses you incur for delivering goods/services to your customers and invoice them for all billable expenses.
Credit Notes
Create and apply credit notes to invoices.
Dashboards
Managers can collectively track the status of invoices, payments, and more from a single interface using real-time dashboards.
Late Fees/Additional Charges
Add applicable late fees on late payments and other additional charges such as transportation, handling charges, and others while creating an invoice.
Discounts
Discounts can be applied to each line item and for the entire invoice. Discounts can be a % or fixed amount.
Notifications
Automatic email notifications for tasks such as new registration, invoice creation and reminder for payments.
Customer Portal
Separate portal for customers to manage invoices, payments, retrieve documents and credit notes, and more.
SutiInvoice is available in multiple versions: Free, Professional, Corporate, Enterprise and Unlimited. Pricing starts at $10/mo for up to 2 users and up to 50 invoices. Visit http://www.sutiinvoice.com for more info.
About SutiSoft Inc
SutiSoft Inc. is a privately held company founded by N.D. Reddy, a successful Entrepreneur with over 30 years of experience in both the Hardware and Software industry as a Founder, and CEO. The Company's leading edge enterprise/SaaS application software products range from business productivity solutions such as Electronic Signature, Expense Management, Document Control Systems, Governance, Risk and Compliance, Security Solutions and others. The company's products are developed using Java, Flex, AJAX, HTML5 and other cutting-edge technologies which allow SutiSoft to retain its core values which are Simple, Scalable, Secured, and Seamless. Headquartered in Los Altos, California USA, SutiSoft has offices in Northern California, India and Japan. Additional information is available at http://www.sutisoft.com.
###