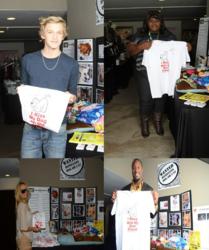 "Social Hill supports a different charity every month and we are thrilled to be able to do something to help shelter animals for the month of December"
Los Angeles, Califonia (PRWEB) December 14, 2011
Social Hill's celebrity lounge is focusing on the plight of stray animals this holiday season by working with Operation Blankets of love and the Los Angeles celebrity community.
Social Hill and celebrity animal lovers are teaming up to change the lives of thousands of shelter animals this holiday season. Operation Blankets of Love is featured in conjunction with this year's holiday pet portrait lounge at the Social Hill show room for the month of December.
When animals are displaced and end up in shelters with cold empty cages they become withdrawn and depressed. Operation Blankets of Love donates blankets, toys, and other supplies to animal shelters across California in an effort to drastically improve the animals' conditions. With shelters overcrowding and an increasing number of animals being euthanized, it is important to increase animal adoption. The comfort a simple blanket and toy brings to an animal in an empty concrete cage, lifts its spirit, mood and health, making it a desirable and adoptable pet.
Celebrities such as Gabourey Sidibe, Pamela Anderson, Cody Simpson and Vernon Davis all participated in raising money and awareness for this cause.
Social Hill works with a different charity every month to raise awareness in the celebrity community, in turn, raising awareness within the public. For information on charity sponsorship, visit http://www.socialhill.com. For additional information, drop off locations or to donate directly to Operation Blankets of Love, visit http://www.operationblanketsoflove.com.
Media Contact
Alexis Anderson, Director of Public Relations
alexis(at)brickroadpr(dot)com
###