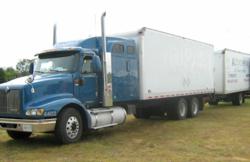 Adco movers moved me for the 3rd time. I have recommended them to all my friends in Toronto. They were very helpful with every move and they worked consistently hard and were always helpful and pleasant. Thanks for making moving easy for me.
Toronto, Ontario (PRWEB) December 14, 2011
To take the stress out of any type of move, Adco offers their experience as a residential and commercial moving company in Toronto specialist, to make sure any move is a smooth and stress free experience.
Clarence Barron of Adco Movers says, "It's not our being in business for over 25 years, moving hundreds of families and businesses that give us the advantage over large multinationals. It's our passion and ability to connect with our clients on their level to ensure their moving experience is a pleasurable one."
Adco offers suggestions to those considering a move now or in the near future so that individuals do not experience a hectic, frustrating event. Clarence works directly with clients to ensure they are prepared for the move well in advance, which can be a very crucial step in the process leading up to the actual moving day. A simple list of "things to do" from starting a couple of months out – to the actual moving day will transform anyone's frustration into relative calm.
Clarence advises, "We have a valuable list of residential moving tips on our website. And one important tip we offer to our residential clients to get started is to put an empty box in each room in the house a couple of months out from the move date. This way everyone in the family can begin packing at a rate that will gradually remove extraneous items from each room, a little bit at a time."
Other suggestions on the Adco website include a great tip in advance of the move to help de-clutter. That tip suggests that owners should consider staging a yard sale a couple of months out, which also can help reduce the amount of items required to be moved. This strategy will also put some "cash" in the pockets of owners.
From 4 weeks out, by cleaning closets, making itemized lists of furniture to be moved, to contacting utilities and medical personnel along with club memberships a couple of weeks out, will help to ensure a smooth, trouble-free move. Preparing lawnmowers, chain saws, trimmers and snow blowers by draining gas and oil will make the move safe from incidents. Putting together an "essentials" box with bathroom supplies, medications and first aid supplies is an important item to consider too.
The day before the move, defrost and clean the fridge, take out removable shelves from fridges and stoves and pack separately. Clarence also advises client to notifying friends and relatives of the move day and they will not being available for the next 24-48 hours is also recommended, especially if the move is between cities or out of the country.
Finally – Clarence recommends getting a good night sleep. It will certainly help. A complete list of moving tips by Adco, is located on their website and by following this list, anyone will be ensured of a smooth, stress-free move every time.
Adco offers a full range of services including long distance moves, local moves and Customs form completion along with packing and unpacking.
ADCO Movers can be reached toll free at 888 250-2008 or by calling their Toronto line, 416-631-8189. Adco is a family owned company, moving residential and commercial goods and are an official bonded carrier with Canada Customs since 1990.
IFM: SEO and Web Design in Toronto
# # #