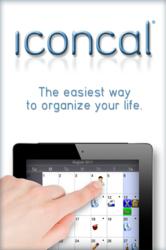 Great alternative to iCal and the other calendars out there. And VERY cool feature that you can create your own icons... I have spent the last hour playing around and making icons. Very neat and fun.
Pocatello, ID (PRWEB) December 28, 2011
GoodWicket L.L.C. announced today it has released a significant and exciting update to its innovative icon-based calendar app, IconCal. IconCal is an innovative icon based calendar that makes organizing and scheduling easy and fun. With simple drag-and-drop functionality, events and appointments are quickly and easily scheduled with the flick of a finger. And with its simple and intuitive interface, viewing a month's schedule can be done with a single glance. There has never been an easier way to organize.
Simply drag an appropriate icon from the icon library to the calendar to represent an event. It's as easy as that. Can't find the icon you're looking for? With IconCal's custom icon creation tool, one can produce their own icons using their device's camera or by choosing from images already on their device. Even images captured from the web can become their personal icons. Literally any image can become an icon. If an icon is not enough to fully represent an event, IconCal also has a very easy to use "text and time" entry feature for further clarity. Experience how easy and convenient calendar organizing can be with IconCal.
The updated, feature-rich 2.0 version of IconCal is now iPad compatible, allows Google syncing, repeating events, alerts, a more responsive icon tray, European calendar support and hundreds of new icons, for an even more powerful calendar tool. The application, available at http://www.iconcal.com, runs on iPad, iPhone or iPod touch.
Highlighted features:

BETA Google Calendar Sync.
Hundreds of available icons in a variety of categories and themes, including Emoji.
"Create-your-own-icons" functionality. Take a picture with your device's camera or choose from your image library, then zoom and crop.
Familiar and powerful event creation. Repeating events, tie icons to specific events, alerts, sort by time or creation, and more.
Quick, at-a-glance month view that beautifully displays easy-to-recognize icons throughout the whole month.
Easy and intuitive drag-and-drop functionality. Simply drag an icon from the Icon Tray onto any day.
Icon library. Use the "Icon Toolbox" to quickly sort through the icon library and choose any favorite or most used icons.
Ten different colorized themes that personalize the look of the month view.
Tutorial/Help function. To bring up in-app help and tips, simply shake the device to display tutorials on how to use the current screen.
Goodwicket L.L.C. is dedicated to the creation of productivity apps that simplify life. To find out more, visit http://www.iconcal.com.
Video quick-look:
http://www.youtube.com/watch?v=qQRpIUuE8ZM
###