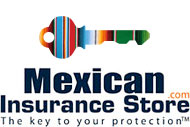 We are committed to providing high-quality Mexican auto Insurance at some of today's most affordable rates, says Gray. When combined with our existing level of service and our easy-to-use site, buying Mexican car insurance is simpler than ever.
Perris, CA (PRWEB) December 13, 2011
Mexican Insurance Store, one of today's leading providers of online Mexican auto insurance, is officially prepared to assist travelers who will be heading down to Mexico this winter. The company, which offers high-quality Mexican insurance policies through its website, is ready to handle the influx of orders that tends to occur during the winter months. "Winter is definitely one of the busiest times of year when it comes to Mexico tourism," says Linden Gray, the president of Mexican Insurance Store. "It's always been that way. Even in these tough economic times, people still like to get away to warmer climates when winter rolls around. Driving to Mexico is an affordable way to do that."
The Mexican Insurance Store website was recently updated, which makes it easier than ever for travelers to find, purchase and use Mexican car insurance policies. The revamped site is easier to navigate and features a clean, streamlined look. Upon arriving on the main page, winter travelers will be able to request quotes and perform other Mexican auto insurance-related tasks quickly and easily. "Our goal was to have the site updated in time for the winter, and we managed to do so," says one Mexican Insurance Store employee. "It should make the busiest time of year a little easier to handle, and people should have an even easier time finding what they want.
Another bright spot for winter travelers is the fact that Mexican Insurance Store recently started offering MAPFRE Mexican auto insurance. With the addition of MAPFRE Mexican auto insurance to the lineup, the company is able to offer a more robust selection of Mexican car insurance policies than ever. "We understand that people have their own individual preferences," says Gray. "At the same time, we only want to offer high-quality Mexican auto insurance. We were thrilled to add MAPFRE into the mix, and it's sure to make the busy winter season go a lot more smoothly.
Regular customers of Mexican Insurance Store are delighted with the recent Mexican car insurance updates, upgrades and changes. "My wife and I head down to Mexico for a few weeks every winter. We try to visit when the temps are the lowest back home. For the past two years, we've purchased our Mexico car insurance through Mexican Insurance Store. We were already planning to do so again this year, and the recent updates make it an even more obvious choice." Another customer adds, "I'm happy to see that the company now offers MAPFRE. I've already looked at the available options, and I'll most likely be purchasing MAPFRE Mexican auto insurance for my winter trip to Mexico.
While there have been many changes to the Mexican Insurance Store website, customers will be relieved to know that not everything has changed. "We are still committed to providing high-quality Mexico car Insurance at some of today's most affordable rates," says Gray. "The recent updates and changes are designed to make the busy winter travel season go a little more smoothly. When combined with our existing level of service and our easy-to-use site, buying Mexican car insurance is simpler than ever." The recent upgrades and changes are permanent, so travelers can enjoy them well after the winter season has come and gone. To learn more and to see what is available, visit Mexican Insurance Store.com today.
About Mexican Insurance Store.com
Mexican Insurance Store is the largest provider of Mexican Auto Insurance in South California's Inland Empire, the 3rd most populous metropolitan area in California. The company offers a variety of Mexico car insurance policies online and provides Mexican auto insurance to Canada and US travelers nationwide. Self-service policies are purchased and printed instantly by customers or created by Mexican Insurance Store and emailed or faxed to customers in minutes at no additional charge.
For additional information click Mexican Insurance Store.com Online or call 888 800 9988 or 951 657 4220.
Contact:
Mexican Insurance Store
3819 Saint Austell Way
Perris, CA 92571
Fax 626 638 3255
###