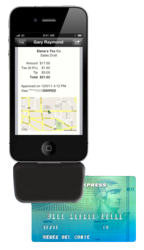 Avalara is making it easy for everyone – including mobile merchants – to get the right tax rate anytime, anywhere.
Bainbridge Island, Washington (PRWEB) December 13, 2011
Avalara, the leader and pioneer in the automated sales tax service movement, today announced its industry-leading technology is now available for mobile devices, making it the first to offer extensive sales and use tax solutions on-line, on location or on-the-go.
Inner Fence, a Seattle-based software developer of mobile credit card processing apps, is the first organization incorporating Avalara's cutting-edge geo-location technology into a mobile payment app, which is expected to be available in early 2012.
Avalara is the first and only SaaS provider to develop and implement a sales-tax-specific geo-location engine, which uses latitude and longitude coordinates, instead of zip codes, to deliver the most accurate calculations in even the most complex jurisdictions.
According to Jared Vogt, co-founder and Chief Technology Officer at Avalara, this unmatched level of accuracy gives businesses many advantages, including greater risk mitigation in the event of an audit, and reduced customer service issues related to incorrect tax rates.
"Retailers using any location-aware mobile device can now accurately calculate sales tax data based on their exact geospatial location – even if the transaction is in a crowded farmers market, a new construction site or on an offshore oilrig," said Vogt. Avalara also provides businesses the ability to file and remit sales tax with the highest level of confidence.
Inner Fence Co-founder Derek Del Conte says Avalara's sales tax service will help Inner Fence set a new standard in the mobile payments industry. "Our app will automatically provide precise sales tax calculations regardless of the location," said Del Conte. "When combined with AvaTax reports, it will be easier than ever for our merchants to fulfill their reporting requirements," he said.
"In short, Avalara is making it easy for everyone – including mobile merchants – to get the right tax rate anytime, anywhere," said Vogt. "There's a clear need to simplify transactional tax compliance, and Avalara is filling it through innovation."
About Avalara:
Avalara is the nation's leader and pioneer in the automated sales tax service arena. It aspires to make tax compliance attainable for all businesses by providing a fast, easy and accurate way to calculate and remit transactional taxes that is as reliable and affordable for small and mid-size business owners as it is for large corporations.
Avalara's web-based, Software-as-a-Service offers companies the most complete sales tax compliance solution available, from calculation to certificate and 1099 management to electronic filing and payment. Avalara serves more than 40,000 registered users located throughout the world, delivers approximately 750 million sales tax transactions, and files and remits more than $10 billion in sales & use tax collections per year.
Founded in 2004, Avalara is a privately-held company that employs more than 225 professionals at its headquarters on Bainbridge Island, WA and offices in Seattle; Irvine, San Diego and Rocklin, CA; Falls Church, VA and Pune, India.
About Inner Fence:
Inner Fence is a privately held Seattle-based software development company that builds mobile credit card applications, allowing merchants to accept charge payments from anywhere. Their Credit Card Terminal app is available on iPhone, iPad, Mac, Android, and Windows Phone. For more information, see http://www.innerfence.com.
# # #