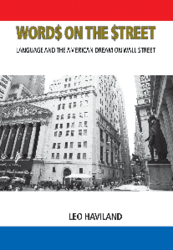 New York, NY (PRWEB) December 16, 2011
"Words on the Street", written by Leo Haviland, is an experienced insider's analysis of Wall Street language. It gives people a new way of looking at Wall Street and its marketplaces.
This informative and entertaining exploration of marketplace rhetoric focuses on metaphors derived from the fascinating arenas of games, love, war, politics, religion, the fine arts, and natural physical science. This expose reviews that wordplay in the context of the American Dream.
Armies of books describe marketplace structure and instruments, recount economic history, or unveil personalities and strategies of heroic (or scandalous) individuals and institutions.
"Words on the Street" is different. It enlightens Wall Street professionals, Main Street audiences, policy makers, and academics regarding Wall Street talk and its implications.
As Haviland writes, "Though Wall Street often tries to benefit the public, it designs its influential rhetoric to harvest money from the public. Thus clever and delightful metaphors, reliance on American Dream language, and a rationality edifice do not intend only to teach and impress others. Wall Street words want action."
Wall Street and American Dream rhetoric reflect and shape marketplace perspectives and thereby influence quests to make, keep, and manage money, the author writes. Therefore Wall Street propaganda has major financial consequences for both Wall Street insiders and Main Street. "Words" may change marketplace viewpoints, including dogmas related to investment.
This cultural investigation shows how investors and other players are persuaded to venture into and stay within stock, interest rate, currency, and commodity arenas. The opportunity to make money is a very incomplete explanation.
The book is extensively documented from financial sources and via references to literature, film, and music.
This study of Wall Street's language and rhetorical methods benefits Wall Street professionals, Main Street residents, businesses, politicians, and regulators seeking insight on how and why Wall Street sermons attract and convince them. Enticed by the oratory of Wall Street and its allies, many millions of Main Street dwellers around the globe have marched into and remained within Wall Street, often to "invest". The recent worldwide economic crisis underlines the importance of Wall Street marketplaces, even for those who have not carried their own money directly to Wall Street tables.
"Words on the Street" demolishes the scientific ambitions and claims, not only of Wall Street, but also of economics and other social "sciences". "Words" investigates and discredits the counterfeit science (alleged objectivity) of the influential armies of would-be Newtons, Einsteins, Darwins, and Fords roaming throughout Wall Street and economics. Its analysis of Wall Street language in the context of the American Dream will fascinate American history scholars and students. Finally, "Words" provides an innovative yet persuasive explanation of cultural reasoning and how it differs from scientific rationality.
Leo Haviland has three decades of experience in the Wall Street trading environment. Haviland has worked for Goldman Sachs, Sempra Energy Trading, and other institutions. In his research and sales career in stock, interest rate, foreign exchange, and commodity battlefields, he has dealt with numerous and diverse financial institutions and individuals. He is a graduate of the University of Chicago (Phi Beta Kappa) and the Cornell Law School.
For additional information, please visit http://www.havilandwords.com.
Words on the Street: Language and the American Dream on Wall Street
By Leo Haviland
Dog Ear Publishing
ISBN: 978-1-4575-0565-2 $29.95 (Hardcover, 624 pages)
ISBN: 978-1-4575-0804-2 $19.95 (Paperback, 624 pages)
ISBN: 978-1-4575-0814-1 $9.99 (eBook)
Available at Ingram, Amazon.com, Barnes & Noble, and fine bookstores everywhere.
# # #