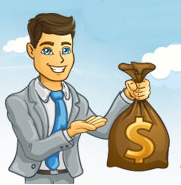 Cut your outsourcing expenses into 1/10 with Fivers World. Services that costs hundreds else where are sold exclusively on our website for $5 only.
Pittsburgh, PA (PRWEB) December 14, 2011
The FiversWorld.com website recently opened their virtual doors to companies seeking freelancers for hire from any of 15 primary categories. The freelancers for hire on the site aren't employees of FiversWorld.com. The site simply connects hiring companies with these independent freelancers, acting as a middle-man between the two parties for payment and project delivery purposes.
 
"Normally if you want to hire a programmer for a small task – like installing a plugin on your blog – you have to go through a freelancer work website, where you're forced to create a project description… look through dozens of bidders… choose one of the bidders and wait for the project to be completed. It can often take days before you even get the project started. But FiversWorld.com is just the opposite," explained site owner Jason Parker.
 
"Programmers for hire on FiversWorld.com list the services they're willing to do and the time frame in which those services will be completed. Companies simply decide on the service they want and find a provider in a matter of minutes," he added.
 
FiversWorld.com, however, isn't just a directory of writers and programmers for hire. A quick scan through the site will show a seller offering to create a PowerPoint presentation, with up to 15 slides, for $5. A freelancer in the Philippines does t-shirt designs for $5. A 30-second professional voiceover from a US-based actor costs $5, too. And for businesses looking to expand their Facebook reach, there's the provider who will announce a site to his 2,000+ Facebook friends – still for $5.
 
 "That's the interesting thing about FiversWorld.com," laughed Parker, "it's got a serious side and it's got a fun and quirky side too. The freelancers for hire here come from many different countries and backgrounds. Just browsing through the site opens your imagination to everything from marketing ideas to birthday gifts."
 
To browse through the thousands of available freelancers on the site, visit FiversWorld.com at (http://www.FiversWorld.com).
###