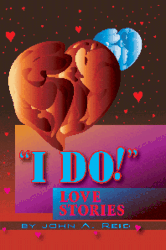 This new book delivers eight short stories that will warm the heart and the senses.
TORONTO, Canada (PRWEB) December 20, 2011
In this new collection of eight short stories released by Dog Ear Publishing, the cast of characters range from a 19th century young woman being stalked by a killer, to a 20th century young woman dodging amorous offers from her love-struck neighbor. The opening story, "The Romance of Rosanna Tucciano," is a parody of romance novels, featuring the village's most beautiful young woman with a very big appetite and a much bigger following of would-be suitors, but she hopes to marry the young man who doesn't seem interested in her.
In "So Many Portraits," a woman keeps painting many portraits of a mysterious young man until she finds true love in The Bahamas– but not with her fiancé. A spiteful cat and flamboyant guests add splashes of humor to "Destiny at a Party," and in "Comic Book Romance," a playboy wants to woo the gorgeous girl he grew up with, but she refuses to be just another of his brief romantic flings. The book turns to the darker side of love with the haunting "A Tryst In The Fog," which features a 19th century young woman fleeing a killer in a dense fog.
Author John Reid, an artist/designer who lives in Toronto, has written several novels and collections of short stories. His first novel was "Down a Dark Hall," a prison crime-fantasy.-
I Do!
John Reid
Dog Ear Publishing
ISBN: 978-14575-0680-2 368 pages $26.95 US
Available at Ingram, Amazon.com, Barnes & Noble and fine bookstores everywhere.
About Dog Ear Publishing, LLC
Dog Ear Publishing offers completely customized self-publishing services for independent authors. We provide cost-effective, fast, and highly profitable services to publish and distribute independently published books. Our book publishing and distribution services reach worldwide. Dog Ear authors retain all rights and complete creative control throughout the entire self-publishing process. Self-publishing services are available globally at http://www.dogearpublishing.net
and from our offices in Indianapolis.
Dog Ear Publishing – self-publishing that actually makes sense.
###