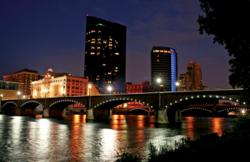 Grand Rapids, Michigan (PRWEB) December 13, 2011
Over 350 area business and community leaders will gather in downtown Grand Rapids on Wednesday, December 14, 2011, for The Right Place, Inc.'s 15th annual Economic Outlook for West Michigan.
For the first time in the event's 15-year history, The Right Place, Inc. President and CEO Birgit Klohs will be joined by Doug Small, President of Experience Grand Rapids, Rick Baker, President and CEO of the Grand Rapids Area Chamber of Commerce, and George Erickcek, Upjohn Institute Senior Regional Analyst. Together, these four community and business leaders will review regional, state and national industry trends as they impact West Michigan, employment projections and an overall economic forecast.
WHEN:
Wednesday, December 14, 2011
8:00 - 10:30 a.m.
WHERE:
DeVos Place, Ballroom A
303 Monroe Ave. NW, Grand Rapids, MI 49503
INTERVIEWS:
Speakers will be available for media interviews immediately following the event
Speakers and topics for this year's event include:
George Erickcek, Senior Regional Analyst, Upjohn Institute
West Michigan Economic Outlook
Based on forecasting models and extensive research, Erickcek will present an overview of existing economic, automotive, office furniture, service, and retail industry sector trends as well as a short-term employment forecast for the greater Grand Rapids area.
Birgit Klohs, President and CEO, The Right Place, Inc.
Regional Economic Development
Leading the West Michigan's foremost organization focused exclusively on spurring new investment and jobs in the region, Klohs will provide a review of new business growth in 2011, challenges facing our region, and emerging, strategic opportunities for the year to come.
Rick Baker, President and CEO, The Grand Rapids Chamber of Commerce.
Public Policy, Small Business Development, and Diversity
As an organization with more than 120 years of combined experience, the Grand Rapids Area Chamber of Commerce has a wealth of knowledge of how to support local businesses. As its leader, Baker will discuss some of the major challenges and opportunities in public policy, diversity, and small business development that impact West Michigan's economic growth and vitality.
Doug Small, President, Experience Grand Rapids
Convention and Tourism
Supporting convention and event planners as well as marketing West Michigan as a premier travel destination, Small and the Experience Grand Rapids team drive the growth of West Michigan's convention and travel industry. As the leader of this dynamic organization, Small will review 2011 highlights, and outline opportunities and challenges for further building West Michigan's convention and travel industry.
About The Right Place, Inc.
The Right Place, Inc. is a regional non-profit economic development organization founded in 1985 and supported through investments from the private and public sector. Its mission is to promote economic growth in the areas of quality employment, productivity and technology in West Michigan by developing jobs through leading business retention, expansion and attraction efforts. For more information visit: http://www.rightpl ace.org [http://www.rightplace.org __title__ The Right Place, Inc.]
###