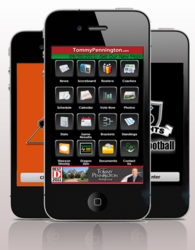 High school football programs across the nation are boasting their playoff success to their fans using the latest technology.
Bedford, TX (PRWEB) December 13, 2011
High School Football Team State Finalists Go Mobile With Their Custom Mobi™ App's All-in-One App/Website Solution by MobiTree™
High school football programs across the nation are boasting their playoff success to their fans through a fully-integrated and customized Mobi App for their Smartphones, tablets or other devices. MobiTree™ is proud to congratulate our Mobi clients that are competing in football state championship games across the country, including Texas, where high school games can be attended by over 10,000 sports enthusiasts per game. In addition to displaying a multitude of talent on the gridiron this season, these teams also added buzz and excitement by going mobile in 2011. This year's state playoff finalists include (download from your Smartphone browser):
Aledo High School - Aledo, TX
aledofootball.mobi
Aledo Bearcats travel to Dallas Cowboys Stadium, December 17, in search of their 3rd consecutive football state championship and fourth title in school history. The Bearcats are led by the Gatorade National Player of the Year, RB Johnathan Gray who has tied the national record for career touchdowns with 204 in his four years at Aledo High School. Thanks to Gray and QB Matthew Bishop, the Bearcats have emerged as one of the premier sports powerhouses in the state of Texas. Aledo fans have enjoyed watching Aledo Bearcats Head Coach Tim Buchanan discuss each win in the weekly Coach's Show video posted in the news section of the Aledo Bearcat's Mobi. Gray's fans even purchased a Personal Ad to support him in the Mobi – a feature many teams are utilizing as a fundraising solution and to help with recruiting.
Carroll Senior High School - Southlake, TX
carrolldragons.mobi
As one of the most recognized football programs nationally, the Dragons have won seven Texas State titles in eight championship appearances. This year, they will make their first trip to the state title game since 2006. Fans are engaging CarrollDragons.Mobi which includes a real-time scoreboard that is updated during each game, player profiles that offer the very latest individual stats throughout the high school football season, and brackets which showcase Carroll's deep playoff run.
Cibolo Steele High School - Cibolo, TX
steelehighschool.mobi
The Cibolo Steele Knights, from Byron P. Steele II High School, are returning to the Texas Class 5A State Championship for a second straight year. In 2011, the Knights are averaging 37 points-per-game leading up to this year's state championship appearance. Steele fans are quick to use their SteeleHighSchool.Mobi to vote for their "Favorite Knight of the Week" thanks to the all-new polling technology. This new feature allows fans to provide their sports team and booster club with instant feedback every week.
Centreville High School - Centreville, VA
centrevillefootball.mobi
The Centreville Wildcats have some of the most loyal high school football fans in the state of Virginia. In fact, The Washington Post wrote a feature article about Centreville's creative use of social media and their Mobi, which was created by MobiTree, as a key to their success. Their football team has one of the best quarterback-running back tandems in the country, as QB Mitch Ferrick and RB Manny Smith put forth a combined total of 41 touchdowns this season alone. Wildcat Touchdown Club's CentrevilleFootball.mobi has amassed over 5,000 photos in their mobile photo gallery for fans.
As teams nationwide celebrate the success of their programs this year, they are embracing the skyrocketing growth in mobile demand, expected to supersede PC's as the top way to search the internet by 2013. Now there is a solution with MobiTree to make it easy to get their very own branded Sports Mobi™ -- App/Website/Email and Text -- all from the same software solution, and both marketing and fundraising expertise to support it. Checkout demos: mobitree.mobi/directory.
"We didn't realize what we were missing until we got our own Mobi by MobiTree," said Craig Harbuck, Aledo Athletic Booster Club Vice President of Fundraising, "and now, our fans, school, town and sponsors are so excited to keep up with the Bearcats however, whenever, wherever via AledoFootball.Mobi."
"We created a scalable platform to accommodate our all client's needs and keep them ahead of the game with an all-in-one solution that does it all – the Mobi – an optimized experience for any device," said John M. Reistrup, Chief Operating Officer, MobiTree. "MobiTree's solution automatically adapts to Smartphones, tablets, PC's and laptops, so we can provide a real-time, frictionless and seamless experience."
New MobiTree™ Mobi™ features include mobile:

All-in-One Communication with Email/Text/News feeds
Brackets and tournaments
Interactive Video and Photo uploads by fans
Voting and surveys
Donations and Fundraising
About MobiTree: MobiTree™ is a leader in mobile, eCommerce, marketing and fundraising solutions, helping teams, organizations and businesses build their own mobile and online social communities around their brands. MobiTree's Mobi offers a revolutionary, leading-edge technology and service: the first all-in-one customizable mobile APP/website experience for anyone and any device. MobiTree's products include Sports Mobi™, All Sports Mobi™, League Mobi™, Band Mobi™, Event Mobi™, Custom Mobi™ and more. For more information, visit mobitree.mobi today or call 1-800-349-7563.
Media Contact:
John M. Reistrup
john(at)mobitree(dot)mobi
703-629-2150
# # #