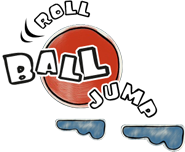 A fresh take with this game keeps you coming back for more
Chicago, IL (PRWEB) December 26, 2011
Mobile device users have been fascinated with jumping games for a long time. The games create a playing field of platforms which can move, disappear or change shape as the game progresses. Users guide a bouncing avatar from platform to platform by tilting the game-playing device and using special features such as springs or jetpacks that are hidden throughout the game.
The insatiable market for jumping games has spawned an entire genre of titles that offer different looks but stick to the same basic game play. Players have gotten used to the controls for these games and spend their time searching for different game play environments that can make the games exciting. The world of jumping games is changing with DoronD Apps' debut release of "roll.ball.jump".
After three months in development, DoronD Apps has released a jumping game that adds an entirely new level of game play to a genre that has grown in popularity. One of the first things that players will notice is that the ball in "roll.ball.jump" never stops moving. It will continuously move from side to side and bounce off the screen boundaries as opposed to rolling across to the other side. Players will notice some other significant differences that sets "roll.ball.jump" apart from other jumping games.
The ball changes in size and speed as the game progresses, which adds a layer of difficulty to the game that is not offered in other jumping games. Players will be able to tap on the screen to initiate a power jump to move the ball to higher levels. A simple swipe of the screen can get the ball moving in the opposite direction and completely change the feel of the game. This game can help you pass the time whether you have a few minutes to spare, or a few hours.
The idea behind "roll.ball.jump" is the brainchild of developer Doron David. He started DoronD Apps at the age of 40 after experiencing significant challenges in his life. He decided that he wanted to be involved in something he enjoyed and could believe in. "I decided there and then to pursue something I wanted to do for the longest time." explains David. His love for jumping games and his visionary ideas on how to improve game play lead to the development of "roll.ball.jump" and the creation of DoronD Apps.
"The actual experience of making something is what counts," says David. "Don't get me wrong, a lot of love and care went into developing this game." He plans on continuing to develop mobile games and is always looking for new ideas that can help him continue his success as a game designer.
The addicting game play of "roll.ball.jump" is available on the iPhone, iPod and iPad platforms for $0.99 via the App Store at:
http://itunes.apple.com/us/app/roll.ball.jump/id486622063?ls=1&mt=8
More information is available at:
http://www.dd-apps.com/games/roll-ball-jump/
Like DoronD Apps on Facebook:
http://www.facebook.com/DoronD.Apps
###