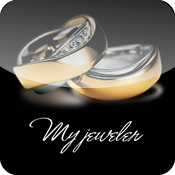 We're excited about the response the new features have received and we look forward to more upgrades in the near future
San Diego, CA (PRWEB) December 15, 2011
My Jeweler is the premier app for diamonds, gold, platinum and silver dealers, jewelers, retailers, buyers, collectors and everyone else in between. My Jeweler has connections with diamond pricing sources but users can also connect to their RapNet account and use My Jeweler with Rapaport pricing for your diamonds. In addition to the pricing calculators, My Jeweler also can package products together like gold and diamonds to price a piece of jewelry, items can also be stored with prices and information about products in collections.
My Jeweler recently received multiple upgrades to keep the app in the lead of diamond pricing calculators on the iPhone and iPad. The recent upgrades included multiple enhancements:

Updated, more reliable and faster gold and metals pricing service.
Ability to set a default discount rate for Gold and other metals.
Option to set your own manual currency.
RapNet account information is now saved.
iOS 5 support.
Option to purchase an add-on pricing calculator for Platinum and Silver.
Option to purchase use pennyweight (dwt) measurements instead of grams.
With the addition of platinum and silver pricing as well as the pennyweight option, My Jeweler becomes and all around pricing calculator and inventory manager for any professional, collector or hobbyist. Silver and Platinum options are available for purchase at $4.99 and pennyweight for $2.99. "We're excited about the response the new features have received and we look forward to more upgrades in the near future" said Hussein Yahfoufi, president of appsplit.
My Jeweler remains the only diamond pricing calculator app in the marketplace with live currency feeds, IDEX and RapNet/Rapaport pricing, Gold, Platinum and Silver Pricing, Grams or Pennyweight, Universal for iPhone and iPad, store products and images.
appsplit is a mobile tech company based in San Diego, California. appsplit provides several mobile tech related services including app development, a mobile tech blog and also builds and manages its own apps such as My Jeweler and DiamPrice.
###