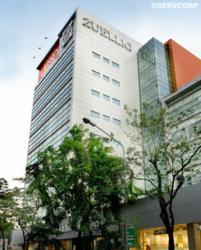 As evidenced by its tenants alone, it's doubtless that everything within the building and around the neighborhood is topnotch and of an international level in quality.
(PRWEB) December 14, 2011
The world-renowned Virtual Office Thailand provider known as Servcorp will soon acquire a new office location this coming January 16, 2012 as part of its continuous efforts to reach an even wider consumer base within Thailand. Providing added accessibility for its clients is par for the course for Servcorp, whose rent office space and Serviced Office Thailand services all rest on the best locations that Bangkok has to offer. Besides which, the opening of this new site also presents an opportunity for Servcorp to widen its horizons and present its office rental and serviced office solutions to a wider area and a bigger audience, so to speak. Accessing rentals has become even easier thanks to Servcorp's decision to open up a new location at a prime CBD (Central Business District) site at the corner of Wireless Road and Ploenchit Road.
The full address for the new site is as follows: Park Ventures Ecoplex, 57 Wireless Road, Lumpini, Patumwan, Bangkok 10330, Thailand. Servcorp chose this area as a new base of operations for its serviced office in Bangkok and its office for rent in Bangkok because it offers a lot of benefits for its clientele. For instance, the Park Ventures Ecoplex is located in the middle of the finance, business, and legal precinct of Bangkok CBD, which means it's in the heart of Bangkok's most technologically advanced area. It's also accessible to the BTS Ploenchit Station, which ensures easy transportation within the most important parts of the CBD. Every facility is complete, every office supply is readily available, and every kind of transportation is accessible in this highly advanced metropolis. One other reason why Servcorp chose Park Ventures Ecoplex is because it's home to financial institutions and a long-standing list of law firms. As evidenced by its tenants alone, it's doubtless that everything within the building and around the neighborhood is topnotch and of an international level in quality.
Furthermore, the area is also near several embassies, so expatriates will certainly rest easy working within this place. Most importantly, Park Ventures Ecoplex is home to easy access business and banking facilities, plus includes a wide range of in-house amenities such as a gym, a swimming pool, a five-star hotel (to be specific, a 240-room luxury five-star international hotel on levels 23-34), and the Sky Lounge & Restaurant. Every last need is met by the area, and the more-than-satisfactory features and conveniences of the new site should be conducive to increased productivity and a happier clientele. Also, because Servcorp was always a clean and green type of company that values conservation and saving the environment, it also chose Park Ventures Ecoplex as its new site because of the buildings energy-saving and environmentally friendly aspects. For example, the tower's design was influenced not only by the contextual beautiful cultural greeting; it was also developed with eco-friendly and eco-driven goals so that every last watt, degree, and emission is limited with Mother Nature in mind. The 34-floor building also offers impressive views of Bangkok's skyline, which further supports the claim that its location is most ideal for any company that desires to work within the confines of the Bangkok CBD.
Servcorp Thailand, a premier provider of Virtual Office Thailand and Serviced Office Thailand services is about to launch a new location on January 16, 2012 at the environmentally friendly Park Ventures Ecoplex on Wireless Road, Thailand. Clients can expect to have improved rent office space, office in Bangkok, and office for rent in Bangkok packages thanks to the opening of the branch at one of Bangkok CBD's prime locations.
###