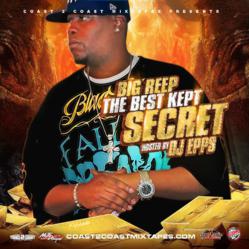 Miami, FL (PRWEB) December 14, 2011
Hip hop artist Big Reep recently released his [mixtape "The Best Kept Secret." Coast 2 Coast Mixtapes presents the project, which is hosted by Shadyville/G-Unit/Coast 2 Coast DJ Epps and now available for free download "The Best Kept Secret" features tracks like "Get 2 Know Reep," "Turn You Out," and "To The Top." Production is added by Vybe Beats, Mister K.A. Beats, and more.
Big Reep is a hungry cat straight out of the Crown Heights section of Brooklyn, NY. He eats, breathes, and sleeps this thing that we call hip hop music; it just flows through his veins. He immediately fell in love with the genre the first time it hit his earlobes. Hip hop made him realize that the world was much bigger than just Brooklyn. It made him realize at the time that there were people in the Bronx, Queens, and Harlem etc. that were going through the same things that he and his friends were going through. It was something that the urban community could relate to—the ghetto version of CNN.
Some of his early influences were artists like Kool G Rap, Nas, Notorious B.I.G., Tupac, and Jay-Z, just to name a few. He grew up in the era of hip hop when we were able to relate with the artist—the golden era of the '90s; before hip hop was about how much money and jewelry you have and making it rain in the clubs. Not that there's anything wrong with that, it's just that the average person in the hood can't relate to it, because their lives are nothing like that. To Big Reep, hip hop is a vehicle for the unheard to be heard. That's why he fell in love with it to begin with. It gave a dude like him an opportunity to tell his story and hopefully inspire the generation after him to tell its story.
Somewhere along in the growth of hip hop, the meaning of what makes somebody "nice" has gotten distorted. It's not about how long you've been in jail or how many times you got shot, how gangster you are or how much money you have; it's about how lyrical you can get on that mic, and how good your are at incorporating all of that into your music. It's about how good you are at flipping words, how savvy your wordplay is, and the swagger you have doing it. That's what Big Reep is bringing back to the game. He's also recently started filming and directing videos, and has begun to dabble in music production as well. He is hard at work on his next project, tentatively titled "The Secret's Revealed."
"The Best Kept Secret" is available for free streaming and download at http://coast2coastmixtapes.com/mixtapes/mixtapedetail.aspx/big-reep-best-kept-secret
###