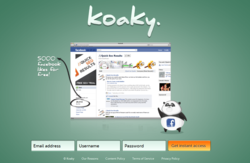 Get Social with Koaky.
Cebu, CEB (PRWEB) December 14, 2011
Clicking Labs, a leading provider of Web 2.0 business applications has once again, outdone themselves this time around. While most social media solution sites provide free trials on services for a limited time, Clicking Labs is offering its users free services. Progressing towards a different route, Clicking Labs is launches today its first free social media tool with an interesting twist.
Koaky, the first of its free applications, allows its user to achieve more Facebook Likes or Twitter Followers quickly through a click of the mouse with no hidden charges. No maximum number, no limited time offer. All what Koaky requires is to simply sign up and after which, a user can begin to use the system to earn points and then use those points to grow your own social networks. This provides users an alternative to achieving a high social media following.
Koaky is the latest service online to grow your social networks without having to spend a single cent. It is a free social media sharing online platform that can help struggling start-up companies gather online exposure and credibility. The process is simple and easy to use. When a person signs up for Koaky, they have the ability to earn and redeem points. Each point is equivalent to two (2) actions. An action may come across as following a new Twitter user, sharing a link on Facebook Share, or following another user on Stumble Upon. After earning points, a user can then redeem the points he has earned to grow his social network profiles. Koaky's system is based on a mutual respect for other users and to foster growth within the community.
This initiative was brought by the vision of the CEO of Clicking Labs, JP Bisson. He mentions "I know businesses are all about making money, but we thought of making Koaky so we could give back to the community. Not everything should be paid or should have a monetary outcome. I'm optimistic on how Koaky will become the next big thing. Our team has been working hard for months by committing their time into this latest project." Business Development – Managing Director, Jonathan Kennedy adds "Koaky is definitely different from the rest. It may take some time for users to get accustomed to, but sure enough, people will see the value in this and will eventually come to want more of its services."
Koaky currently offers the following social media networks and its services: Facebook, Facebook Share, Twitter, Retweet, Digg, Google Plus, Stumble Upon, and LinkedIn. The team behind Koaky is in the works of offering more social networks to help its market grow their social network profiles. Koaky is on a soft launch and will officially be on full blast come the early months of 2012. Visit their website at http://www.koaky.com to know more about Koaky.
About
Koaky is a wholly owned company by Clicking Labs. The company was founded by a group of friends, namely JP, Jonathan and Diana. With dedication and perseverance, they were able to bring together a team of multi-talented individuals to provide the world with creative and interesting marketing strategies to drive success to its clients. It has satellite stations in Canada, Hong Kong and the Philippines.
###