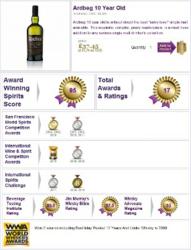 giving customers information on the awards they have won from 8 of the most respected experts and judging bodies in the drinks industry
(PRWEB UK) 15 December 2011
Online since February 2011, Award Winning Spirits has introduced an interesting, innovative, platform which sorts out superlative drinks from those that are excellent, great, and very good, by giving customers information on the awards they have won from 8 of the most respected experts and judging bodies in the drinks industry. This makes choosing drinks very easy for customers as they can see at a glance what score each drink has received out of 100, how many awards and ratings it has received, who gave the drink the award or rating, and when it was received. See the example opposite at: http://awardwinningspirits.com/productshow?pm2_a=show&pm2_id=1864
The ratings and awards they use are from the following judging bodies and experts:-
The San Francisco World Spirits Competition, the International Wine & Spirit Competition, the International Spirits Challenge, the Beverage Testing Institute, Jim Murray's Whisky Bible, Whisky Advocate Magazine, Wine Enthusiast Magazine, and the World Whiskies Awards.
See http://awardwinningspirits.com/awardsinfo for more information on each of the above.
Award Winning Spirits are a family run business based in Magherafelt, Northern Ireland. The head of the family is Stewart Dobbin who grew up in the drinks industry as his mother and father owned a Public House in the town from the 1960's to the 1980's. You are in safe hands as whole family is experienced in the drink, customer service, and hospitality sectors as Stewart has also worked in hotels for 6 years, including the 4 star Grand Hotel in the Channel Islands, his brother has worked on Cruise Liners and hotels all over the world, including a 5 year stint on the QE2, and the other members of the family all have several years experience working in the drinks industry.
Award Winning Spirits' mission is to help drink enthusiasts to figure out the best drinks from the very good drinks and to ensure that their customers never buy bad drink again by giving them awards and ratings information on only the best drinks on the market so they can make informed decisions on which drinks are right for them.
Follow Award Winning Spirits:
» On Twitter: @THEDRYDOCK
» On Facebook: awardwinningspirits.com
Contact Stewart Dobbin by e-mail at info(at)awardwinningspirits(dot)com.
###