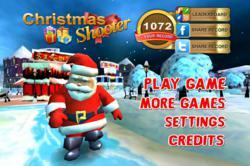 Shoot gifts to people for get more time
Spain (PRWEB) December 15, 2011
Atomic Flavor announced that the new addictive game based on physics and social component has come!!! Shoot gifts to people for get more time. The ultimate goal is to achieve the maximum distance.
The experience will be totally new every time you play because the sledge start in different part of the city and the power-ups will be random for get the most crazy situations. In addition the lighting conditions depends on the time you play.
The goal of the game is to get the maximum distance but you have a limited time. Shoot give to people for get more time and archive a distance record for share it on your favorite social networks. Also you could check your position in the global gamecenter leaderboard.
Features:

Addictive gameplay based on physics
Each time you play will be totally different
Diferent lighting condition: Day, Afternoon, Night
GameCenter Leaderboard
Twitter & Facebook integration
Collect the 5 diferents power-ups for crazy situations
Christmas ambientation and OST
Device Requirements:
iPhone, iPod Touch or iPad with iOS 4.2 or later
Android Phones and Tablets with Android 2.1
Mac with Snow Leopard or Lion
Download Links:
Atomic Flavor SL is a company placed in Spain created by Miguel José García Corchero and Ricardo Castellanos Herreros in 2010. Nowadays we are focus on creating videogames for multiple platforms.
Website : http://www.atomicflavorgames.com
Twitter : @atomicflavor
Facebook: http://www.facebook.com/pages/Atomic-Flavor/103642396340187
Mail : info(at)atomicflavor(dot)com
###