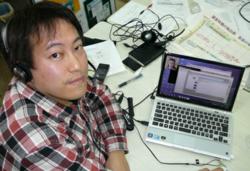 It is our aim to make interaction with the computer as natural as possible
Toyohashi, Japan (PRWEB UK) 13 December 2011
From humanizing the man-machine-interface to searching for speech in audio-video web content to the neuroscience of jetlag, the Toyohashi Tech e-Newsletter (http://www.tut.ac.jp/english/newsletter/) describes a diversity of research projects and findings.
This week, Toyohashi University of Technology publishes the December 2011 issue of 'Toyohashi Tech e-Newsletter', which includes highlights of some of the top papers from researchers at the university. Featured in these highlights are research finding in motherboard monitoring inspired by the immune system; 'cubic' piezoelectric actuators; neurological insights into why we feel jetlag; robots and sound interfaces; Spoken Term Detection for on-line detection of spoken words in speech and video; and multimodal interaction for humanizing the human-computer interface.
The 'Research Highlights' section offers easy to understand compilations of research papers: http://www.tut.ac.jp/english/newsletter/index.html.
The following topics are covered in the December issue:
Multimodal interaction: Humanizing the human-computer interface
http://www.tut.ac.jp/english/newsletter/features/index.html
Kouichi Katsurada is an associate professor at Toyohashi Tech's Graduate School of Engineering with a mission to 'humanize' the computer interface. Katsurada's research centers on the expansion of human-computer communication by means of a web-based multimodal interactive (MMI) approach employing speech, gesture and facial expressions, as well as the traditional keyboard and mouse.
Sensing technology: Motherboard monitoring inspired by the immune system
http://www.tut.ac.jp/english/newsletter/research_highlights/research01.html
The prevalence of computer networks for sharing resources places increasingly high requirements on the reliability of data centres. The simplest way to diagnose abnormalities in these systems is to monitor the output of each component but this is not always effective. Haruki Shida, Takeshi Okamoto, and Yoshiteru Ishida at Toyohashi University of Technology have drawn inspiration from biological immune systems to develop a new model for detecting abnormal operation of network components more accurately.
Neuroscience: Insights into why we feel jetlag?
http://www.tut.ac.jp/english/newsletter/research_highlights/research03.html
Human biochemical processes are controlled by internal body clocks with an approximately 24 h period—circadian rhythms. In mammals, the suprachiasmatic nucleus (SCN) contains self-sustained circadian oscillator as master pacemakers. The expression of clock gene Period1 (Per1) oscillates autonomously in the SCN and is induced immediately after a light pulse. Per1 is an indispensable member of the central clock system, since the constitutive expression of Per1 in the SCN modifies physiological and behavioral rhythms [1]. The SCN and peripheral tissues are compared about the ability of phase shift using realtime monitoring system from same animal. Now, Shin Yamazaki, Rika Numano, Michikazu Abe and colleagues at University of Virginia and University of Tokyo constructed Per1:luc Tg rats in which firefly luciferase was rhythmically expressed under the control of the mouse Per1 promoter [2].
Sound interface with two microphones
http://www.tut.ac.jp/english/newsletter/research_highlights/research04.html
In late years, the development of a human robot and the use of the portable information terminal become popular. Sound interface plays an important role in it. Sound interface is usually comprised of speaker (sound) localization, the sounds separation with the environmental sound, noise cancellation and sound recognition. Of these, our study focuses on the sound localization and sound separation.
Toyohashi Tech inventions and inventors come under the spotlight in the section 'Tech-Overtures'. This time the topic is Spoken Term Detection: On-line tool for rapidly detecting spoken words in speech and video
http://www.tut.ac.jp/english/newsletter/tech_overtures/index.html
A massive amount of speech and video content is stored on servers run by video-sharing sites, broadcast stations, call centers, e-learning host services, and other such organizations. Spoken Term Detection (STD), which the enables search for a keyword on the speech/video database is one of the essential technologies for effectively utilizing such information. Kouichi Katsurada and Tsuneo Nitta at the Toyohashi University of Technology (Toyohashi Tech) have developed a rapid STD method that outputs the most reliable search results in a few milliseconds. The search speed is at least 10 times faster than existing methods.
Further information:
Ms. Junko Sugaya and Mr. Masashi Yamaguchi
International Affairs Division
TEL: (+81) 0532-44-2042; FAX: (+81)0532-44-6557
E-mail:ryugaku(at)office.tut.ac.jp
About Toyohashi University of Technology:
Founded in 1976, Toyohashi University of Technology is a vibrant modern institute with research activities reflecting the modern era of advanced electronics, engineering, and life sciences.
Website: http://www.tut.ac.jp/english/
About the Electronics-Inspired Interdisciplinary Research Institute (EIIRIS):
EIIRIS is Toyohashi Tech's new flagship research complex launched on 1st October 2010. "The aim of EIIRIS is to produce world-class innovative research," says President Yoshiyuki Sakaki. "To do this we are bringing together ambitious young researchers from diverse fields to collaborate on pioneering new frontiers in science such as brain/neuro-electronics as well as tackling some of the major issues mankind faces today: issues such as environmental changes and aging societies."
Website: http://www.eiiris.tut.ac.jp/index.html
###