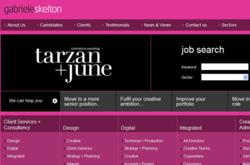 We're delighted with the way it looks and, equally as important, the way it works.
(PRWEB UK) 14 December 2011
Gabriele Skelton is a longstanding and well respected creative recruitment agency that specialises in the design, digital and integrated industry. They have recently released a brand new website that fits perfectly in this area while focusing on making the job hunting more effective for candidates.
The new website is a hub for candidates and clients, where people can share their views and opinions. The blog functionality installed on the website encourages visitors to return to the site regularly and engage in relevant industry content. Social media sharing options throughout the website will enable Gabriele Skelton to grow by word of mouth and gain personal recommendations.
The browse search functionality is easy to use which lightens the stress usually associated with a candidate's job hunt. By streamlining the process and allowing the user to search specific areas of expertise, e.g. graphic design jobs, or client services jobs, this immediately presents exactly what the user wants. From here they can filter their chosen criteria to return only the most relevant jobs.
The prominent pink design, synonymous with Gabriele Skelton's branding, brilliantly showcases the company's involvement in the creative industry. It is a fun and vibrant colour which compliments a fulfilling user experience.
"As we recruit for high-end design and brand agencies, it meant that the look and feel of our website had to be spot on. 4MAT used our brand and translated it into something that worked really well for us online and has already attracted a number of high quality candidates. We're delighted with the way it looks and, equally as important, the way it works." - Peter Bobb, Associate Director at Gabriele Skelton.
###