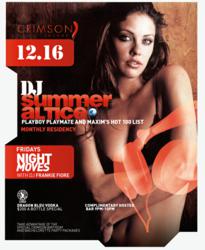 Crimson Lounge partners with Bombay Sapphire to present a special monthly edition of Night Moves featuring the beautiful Summer Altice and resident DJ Frankie Fiore.
Chicago, IL (PRWEB) December 14, 2011
There's no question that the beautiful and talented Summer Altice is a classic all-American dream girl. Playboy Playmate Summer Altice has been featured on the cover of GQ and stole the spotlight in her photo shoots for men's magazine Maxim. While some 'it girls" moments in the spotlight are fleeting, Summer Altice has only gotten hotter, moving up from #52 on Maxim's Hot 100 list to #27 in Maxim's list of the 100 Most Beautiful Women. The former California coed volleyball player bumped, set, and spiked her way into a top-notch modeling career and a swelling acting résumé, with appearances in a pair of Owen Wilson comedies Wedding Crashers and You, Me and Dupree, and the acclaimed HBO show Entourage to name a few. As a DJ, her high-energy sets heat up nights at the Playboy Mansion, and she has performed at some of the top nightclubs throughout the world, from Playhouse in Hollywood and Union nightclub in L.A to world famous clubs such as Opus and Republiq in Manillaand Borcay Island's Epic. In addition to her new monthly residency at Crimson Lounge, Summer is a resident DJ at the famous Las Vegas nightclub Deuces Lounge in the Aria Resort and Casino.
Ladies who attend Night Moves will be automatically entered for a chance to win a beautiful Tiffany's necklace the drawing for which will occur at midnight. Sip on Bombay Sapphire cocktails then hit the dance floor as Summer Altice and DJ Frankie Fiore spin dance music through Crimson's acclaimed Funktion One sound system. Crimson Lounge continues to offer their early Friday specials from their weekly "There Is Life After Work Party" into the evening; guests will also enjoy $6 Absolut cocktails and $8 Absolut martinis. For more information, guest list RSVP, or table reservations, please visit crimsonchicago.com or e-mail info@crimsonchicago.com. At Crimson Lounge… night moves!
WHAT: Night Moves Feat. Playmate DJ Summer Altice (New Monthly Residency)
WHEN: December 16, 2011
9 p.m. to 2 a.m.
Complimentary Bombay Sapphire Hosted Bar 9 p.m. to 10 p.m.
WHERE: Crimson Lounge
333 N. Dearborn St (Inside the Sax Chicago)
Chicago, IL 60654
About Crimson Lounge | Located in the Sax Chicago hotel, Crimson Lounge is an opulent vision of Victorian romance infused with new world energy. Adorned with the deep reds and purples of its namesake, softly lit chandeliers, and walls emblazoned with sixteenth and seventeenth century oil paintings, Crimson is a popular spot for savoring specialty cocktails—the Crimson Manhattan, Persephone, and the D. Rose—which all underscore the playful kitsch of the lounge's vampy décor. With vintage boudoir furniture and private nooks perfect for soaking up bottles, the Victorian-themed lounge exudes an eclectic, sexy vibe. The luxe-lounge's smooth, grown up glamour oozes class, making it a perfect spot for impressing clients or spending a romantic evening in the windy city. Thanks to a new, state-of-the-art sound system and DJ bookings which have included the likes of Gilles Peterson, Derrick Carter, and Dimitri from Paris, Crimson is quickly becoming a forward-thinking music destination for crowds of savvy, hip types, especially for its weekly Wednesday industry night, Commonwealth. Make a table reservation or add VIP bottle service and innovative cocktails to the mix, and it is easy to see why Crimson Lounge is far ahead of the Chicago luxury nightlife curve. Send a text to 312.237.5804 or email info@crimsonchicago.com for reservations and guest information. For more information about Crimson Lounge, please visit crimsonchicago.com and follow Crimson on Twitter (twitter.com/crimsonlounge).
About Frankie Fiore | DJ Frankie Fiore made his entrance to the Chicago nightlife scene seven years ago playing at Chicago hotspots. A self-taught DJ, Fiore recreates electronic music with his own unique twist. His musical style and skill have landed him residencies and guest spots at some of Chicago's hottest bars and clubs including Proof, SpyBar, Crescendo, and Enclave.