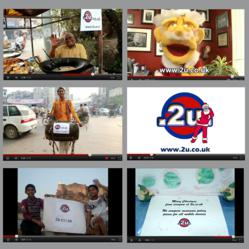 Rather than the traditional Christmas card, staff decided a video would be a great way to send our company greetings this year
Lubenham, Leicestershire (PRWEB UK) 15 December 2011
Having videos made to order, to send as Christmas greetings, personal gifts or to promote a business for a fiver or less, has been pretty much unheard of until the arrival of low-cost websites like fiverr.com and similar UK and European versions – but as 2U discovered, they could be a great way for everyone, not just businesses, to connect and share all year round.
Delivering a unique message to loved ones or customers during the festive season or any other time of the year has not only changed considerably over the last two decades, but, thanks to technology and the way people use it, it has become a great deal easier, more creative and much cheaper too.
Today, most people across the world are equipped with a computer, mobile phone, iPad or other devices which enable them to create a distinctive message of some kind themselves and send it out on a global level in an instant. And it can be done as cheaply, if not more so, than traditional methods.
While the traditional Christmas card, birthday greeting or customer thank you card popping through the letterbox courtesy of the Royal Mail is not entirely a thing of the past, many people and businesses seem to be utilising their technology and finding other creative, fun and money-saving solutions to get their message across themselves - and if they have not got the time to do it there are several websites popping up where people will create personalised videos or do multitudes of other things for £5 or $5. There's even an anything for five Euros website.
But considering that professional, specialist services like video-making, search engine optimisation and marketing are usually quite costly, can providers on these sites really offer good quality material– or is it true that one gets what one pays for? iPhone insurance comparison website 2u.co.uk decided to give it a try and find out for themselves.
'Rather than the traditional Christmas card, staff decided a video would be a great way to send our company greetings this year,' says Grant Burrows from 2u Ltd. 'We wanted to create several messages with a fun element to them. So, on the recommendation of another company we know who have used these websites, we decided to try it out for ourselves and we've been pretty pleased with some of the results. It's proving to be a great way to connect with our customers that's fun, informal and entertaining.'
Some of the amusing festive videos created for the company range from animated elves creating a personalised 2u Christmas card, an animated hip-hopping Santa and Snowman to a mad, Muppet-like Professor who wants to wake up to an iPhone this Christmas morning. The videos have all been created especially for 2u by different people advertising their services on the US fiverr.com site. So, because of the current exchange rate, each one works out at less than a £3.50. And, at the most expensive time of the year for most people, it looks like a fun way of getting a message across that could work for lots of businesses as well as individuals. For 2u.co.uk , that certainly seems to be the case but they believe it could be a useful promotional tool for many businesses all year round.
'Gadgets are one of the most popular gifts to give or receive at Christmas,' says Grant from 2u, 'and this year even more so with the new iPhone 4S, the popularity of the iPad 2, Kindle and the great range of Android phones on the market. Having a place where it's easy to compare insurance from top suppliers to protect those gadgets and save money is something we want everyone to know about, and paying someone a fiver wherever they are in the world to create a distinctive message for our company in their own unique way, is a great solution that could work for lots of businesses, not just during the festive season but throughout the year.'
The company have also had a range of innovative providers from Fiverr create other promotional videos for them including; a crazy Canadian accordion player, a US preacher, an Indian drummer, and a beach boy surfer amongst others. Providers on the US site receive $4 and 1$ is charged to them by the site. It seems most providers employ innovative ways of creating the material quickly so there is a high enough turnover to make a profit.
'Of course there's always a chance that what you get back may not be the best quality but for $5, £5 or 5 euros it's not much of a risk and if you find someone who provides good material then you can possibly do a deal for ongoing work,' says Grant from 2U . 'We use professional specialists for most of our promotional work but we've found these sites quite helpful to use in addition. It's allowed us to have people from all around the world help us to communicate our message in a fun, unexpected way and global communication is what our company is about.'
To view 2u's amusing Christmas messages or see other fun videos made for the company for less than a fiver click here.
# # #