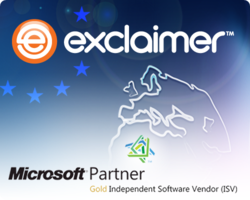 A global company isn't just a website in a few languages, it has to be local – to everyone.'
(PRWEB UK) 15 December 2011
Exclaimer, a British software house and Microsoft Gold Partner with 37 million users worldwide, announces the launch of its new European venture today: Exclaimer Europe B.V, headquartered in the Netherlands.
The emphasis may be on globalisation, Exclaimer concedes, but it isn't just about foreign sales.
Exclaimer sells online, so global customers have always been a large part of their business but using the web isn't enough – instead, Exclaimer Europe is about connection and credibility.
Locally fluent staff are vital, they say, because corporate software is about trust.
Users need to trust that it can provide perfect functionality, that it won't disrupt their system and that they can get constant help – especially in their own language.
Customers can feel unwanted if staff don't understand them – which is inexcusable for a firm that serves some of the largest companies in the world.
As the only provider of Microsoft Certified email signature software, Exclaimer says their unique mark of integrity is globally appealing – but presents its own challenge.
'They want our products for their unmatched quality', explains Leon Neefjes, Sales Manager for Europe, 'but if our service and support don't live up to it, they'll walk away.
'We want to connect with them. A global company isn't just a website in a few languages, it has to be local – to everyone.'
They've taken great pains to provide equal service to distant customers: keeping the office open late for faraway time zones, rewriting their site's English to better relate to American readers and translating it to Dutch and German.
But they say the next step is actually being there, with staff less than a few hundred miles away from customers and speaking to them in their language – fluently.
'Before distribution, before communication, the most important aspect of global competition is quality – national origin isn't even considered', Andrew Millington, Exclaimer's CEO confirmed.
'To speak to someone in their country – that care and attention implies refinement: we took the time to create a team that could help, just like we did with our software.
'Any company can sell cheap products: successful global firms always share one value – excellence.'
Exclaimer
UK: +44 (0) 1252 531 422 | US: +1 888 450 9631 | Email: marketing(at)exclaimer(dot)com
37 million users worldwide trust our Microsoft Certified, award-winning products and 10 years' experience – in financial giants, technology leaders and local charities.
We're a Microsoft Gold Partner who have provided products to every industry, to companies of every size and to millions of customers with complex and unique needs.
For further information, please contact:
Neal Stanborough/Chris Brown
Exclaimer Ltd
neal.stanborough(at)exclaimer(dot)com
chris.brown(at)exclaimer(dot)com
http://www.exclaimer.com
###