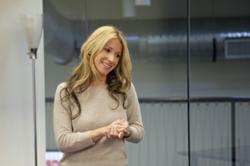 Strong, honest relationships are the foundation of any effective affiliate program...
Chattanooga, Tenn. (PRWEB) December 14, 2011
Seasoned marketing professional, Sylvia Cintrón, will co-host a 60 minute panel discussion at Affiliate Summit West in Las Vegas, NV this January. As Affiliate Marketing Manager, Cintrón has played an integral role in building the affiliate marketing program for AREA203 Digital. Joining her in a discussion on empowering affiliate marketers who want to improve and excel their businesses will be Senior Marketing Manager at LinkShare Corporation, Dannielle Brantley, and Account Executive at ShopAtHome.com, Stephanie Laughon.
Cintrón, Brantley and Laughon will lead the informative panel discussion,"The Importance of Effective Communication Flow," which will include key insights, case studies, and anecdotes from personal experience on the importance of effective communication among advertisers, publishers and networks. The session will emphasize how optimizing communication among advertisers, publishers and networks can lead to mutually beneficial relationships and will also cover four touch points, explaining where those B2B relationships should be nurtured.
"Strong, honest relationships are the foundation of any effective affiliate program and imperative for maximizing earning potential," said Cintrón. "Streamlining communication for merchants, networks, and affiliates increases efficiency and positive results for everyone involved."
The panel discussion will take place Monday, January 9, from 2:00–3:00 p.m. The exclusive session is open to Platinum and Diamond Affiliate Summit Pass holders only. A question and answer session will directly follow the discussion.
ABOUT AREA203 DIGITAL
AREA203 is a digital marketing outfitter. We offer a comprehensive range of digital marketing services, including strategic services, performance optimization, creative design and implementation, analytics, digital engagement, and emerging platform integration. Our focus is to build lasting relationships with our clients that are geared towards growing their companies into industry leaders. To learn more about AREA203 Digital, visit AREA203.com; for the latest news, read our blog at AREA2oh3.com and follow us on Twitter @AREA203Digital.
Adrienne Fletcher editor, social media + pr
adrienne(dot)fletcher(at)area203(dot)com
+1 423 591 7520
Casey Knox director, social media + pr
casey(dot)knox(at)area203(dot)com
+1 423 702 7095
###