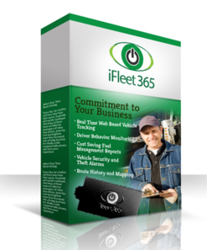 Using GPS technology, fleet managers can proactively monitor their fleets in order to optimize operations, minimize crashes, reduce costs, and keep fleets running longer.
Chicago, IL (PRWEB) December 14, 2011
iTrack365 has partnered with one of the world's leading provider of telematics to offer iFleet365, the most affordable and technologically-advanced GPS-based fleet tracking system. iFleet365 enables companies and managers with fleets of all sizes to proactively monitor vehicles to reduce crashes, improve driver behavior, minimize waste, ultimately making the roads safer for everyone.
"iFleet365 revolutionizes the way companies manage and communicate with their fleets. Using GPS technology, fleet managers have the information they need to optimize operations, from real-time vehicle location to detailed reports, which can be used to reduce liability and drive new efficiencies," said Joe McBreen, President of iTrack365.
The National Highway Traffic Safety Administration has found on-the-job crashes cost employers over $24,500 per crash, $150,000 per injury, and $3.6 million per fatality. iFleet365 offers 24/7 visibility into fleet assets, enabling fleet managers to easily locate vehicles in real time and monitor specific vehicle data such as mileage, speed, fuel consumption, and vehicle security and operations management functionality to improve operations and reduce costs.
For fleets equipped with in-vehicle tracking systems, managers can access their fleet around the clock through iFleet365's web-based interface. Core features of iFleet365 include:

Tracking Data: Real-time visibility of vehicle's location every 5 minutes
Vehicle History Reports: Up to 4 months of detailed driving reports
Mapping: Easy online map view of vehicle location via integrated Google Maps
Speed Infringement Reports: See speeding infringements in different speed zones
Geo Fencings: Designate unapproved driving areas and locations
Movement Alarms: Alerts unapproved movement of the vehicle
Notifications: Receive email alerts when the vehicle leaves or comes into a specified area
Idle Duration Report: View the length of idle time for a vehicle or a group of vehicles
Service History Report: Schedule regular maintenance checks to keep fleets running cleaner, longer
iFleet365 is available for free with a 2 or 3-year service agreement. Monthly service plans starting at: $39.95. For more details, visit: http://www.itrack365.com. Inquiries: info(at)iTrack365(dot)com
About iTrack365, Inc.:
iTrack365 has partnered with one of the world's leading provider of telematics to offer a complete range of web-based GPS vehicle tracking and GPS fleet management solutions. Currently available in over 30 countries worldwide, the iTrack365 suite includes: iTeen365, iSenior365, iSpouse365, iFleet365, and iLease365. With advanced technologies, its own full end-to-end solution capabilities from the design of the hardware and software, to the web based hosting solution, iTrack365 has made this a convenient, user-friendly application for both individuals and companies of any size. For more information: iTrack365.com / 866-900-2464
Media Contact: Shelly Cellak | Burgeon Agency, Inc. | shelly(at)burgeonagency(dot)com | 773.398.6154
###