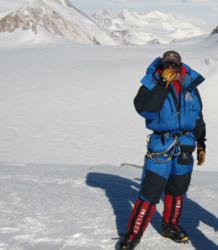 Vinson Massif, Antarctica (PRWEB) December 14, 2011
RMI Guide Dave Hahn is descending from Antarctica's 16,067' Vinson Massif after reaching the summit for a record 29th time. Hahn led two expeditions to the Vinson Massif for RMI Expeditions this year.
After waiting for several days in Punta Arenas, Argentina for good weather to cross the Drake Passage by airplane, Hahn and the first team of 9 climbers and 2 additional guides arrived at Vinson Base Camp on November 20th. After establishing two higher camps on the mountain they reached the summit on November 26th.
The weather proved uncooperative for the second RMI Team of 3 climbers, delaying them at Base Camp where they were forced to spend a day waiting out a storm. Once the skies cleared the team began climbing and reached the summit of Vinson on December 11th. The team is currently back at Base Camp and preparing to return home.
The summit on December 11, 2011 marked Hahn's 29th summit of the Vinson Massif, the most of anyone on earth. "While Dave may down play his record breaking number of Vinson summits, this is a remarkable accomplishment and shows complete dedication to mountain guiding. We are proud of Dave and his 29th successful Vinson summit" says Jeff Martin, a long-time guide and owner at RMI.
Hahn is a renowned mountaineer and guide who also holds the record for the most non-Sherpa summits of Mount Everest. Dave is widely regarded as the preeminent high-altitude mountain guide and guides exclusively for RMI Expeditions.
Rainier Mountaineering, Inc (RMI Expeditions) is one of America's most reputable and long-standing guide services with over 42 years of mountain guiding experience. An American Mountain Guiding Association (AMGA) accredited guide service specializing in mountaineering expeditions, alpine climbing, trekking and ski touring programs, RMI is committed to leading exceptional mountain adventures.
###