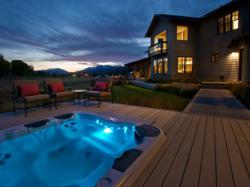 Salt Lake City, UT (PRWEB) December 14, 2011
HGTV, the leader in home and garden television programming, recently featured a Bullfrog Spa Model 662 and the Bullfrog Spas SpaVault below-ground installation kit in their 2012 Dream Home.
HGTV has designed and built a Dream Home each year since 1997. No detail is overlooked in these impressive designs and each is built with a unique style that fits with the region and local surroundings. In addition, the 2012 Dream Home will be given away to a lucky sweepstakes entrant.
The HGTV website displays information, video, an interactive tour of the home, and a large image gallery, which of course includes many beautiful images of the hot tub deck and Bullfrog Spa.
The Dream Home designers chose a Bullfrog Spas Model 662 hot tub, which is an 8' x 8' spa with a seating capacity of 6 adults. The Model 662 offers a variety of seating options, including a comfortable bent-knee lounge seat and it features personalized massages via 6 JetPaks.
Only Bullfrog Spas offer patented JetPak Technology. JetPaks are interchangeable jetted seat backs. Each JetPak provides a unique massage sensation. JetPaks allow the Bullfrog Spa owner to customize their hot tub with the jetted massages of their choice at any time according to their massage therapy needs and preferences.
The hot tub deck on the 2012 Dream Home was built using a SpaVault, a unique Bullfrog Spas product. The SpaVault allows the builder or experienced do-it-yourself homeowner to install a Bullfrog Spa below ground or partially in the ground according to landscape design needs. A below ground hot tub in a SpaVault makes it easier to get in and out of the spa and provides open sight lines in your landscape design. SpaVault also provides easy equipment access and protection from the elements.
For more information on Bullfrog Spas, JetPaks, and SpaVault please visit bullfrogspas.com today or locate your nearest Bullfrog Spas Dealer.
# # #