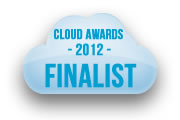 Cary, NC (PRWEB) December 15, 2011
StrikeIron, the cloud leader in data quality and data communications solutions, has been named a finalist in the inaugural 2012 Cloud Awards Program for Cloud Infrastructure, Data Innovation of the Year, and Web Services Excellence.
StrikeIron has a portfolio of data quality and communications solutions including: Email Verification, Address Verification, Phone Append, Sales Tax, and SMS text messaging, All solutions are delivered from StrikeIron's reliable and scalable cloud platform, IronCloud. StrikeIron serves thousands of customers with millions of transactions daily.
The Cloud Awards recognize and celebrate industry leaders and pioneers in the field of cloud computing. Categories include B2B Customer Strategy, Best Cloud Infrastructure, Data Innovation of the Year, Developer of the Year, Most Promising Start-Up, Best Platform as a Service, Security Innovation, Best Software as a Service and Web Services Excellence.
The cloud computing awards program is open internationally across the US and EMEA regions and accepts entries from organizations of any size.
Cloud Awards organizer Larry Johnson said: "We have seen a remarkable calibre of organizations enter the program and the Cloud Awards team is truly honored to judge them."
"The organizations which have taken part in the 2012 Cloud Awards program demonstrate exactly what cloud computing has to offer. We've seen world-leading organizations spring up literally overnight to offer faster, more capable and cost-effective solutions than previously imagined. We've seen markets become so disrupted they're unrecognisable. And we've seen all of this when the cloud computing industry is still in its infancy. We can't wait to see what we get in our in-trays in 2012 and 2013, let alone 2025."
Sean O'Leary, CEO of StrikeIron said: "Being named a finalist in three categories of the 2012 Cloud Awards program is a prestigious honour, and in such a competitive industry, one which StrikeIron is particularly proud of."
About StrikeIron:
StrikeIron is the leader in Data-as-a-Service (DaaS), delivering data quality and communications solutions via our cloud platform IronCloud. We provide address verification, email verification, phone validation, phone append, SMS text messaging, and sales tax solutions to customers in a variety of markets. Our solutions are delivered as Web services that can be easily integrated into any application or system. Additionally, our solutions are pre-integrated into leading platforms like: Salesforce.com, Informatica, Oracle CRM On-Demand, and more. Visit us on the web at http://www.strikeiron.com , read our blog at http://blog.strikeiron.com, and follow us on Twitter @StrikeIron.
About the Cloud Awards:
The Cloud Awards is a premier international cloud computing awards program which recognizes and honours industry leaders, innovators and organizational transformation in the field of cloud computing. The inaugural awards, launched in June 2011, opened to large, small, established and start-up organizations, to find and celebrate the pioneers that will shape the future of the industry as we move into 2012 and beyond. Finalists were selected by a panel of international industry experts. For more information about the Cloud Awards please visit http://www.cloud-awards.com/.
###