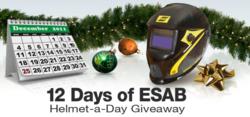 Enter every day to win an ESAB Welding Helmet - no purchase necessary!
Florence, SC (PRWEB) December 13, 2011
ESAB Welding and Cutting Products announces the "12 Days of ESAB: Helmet-A-Day Giveaway." From December 8 – December 23, 2011, ESAB will give away a black OrigoTM-Tech 9-13 helmet.
No purchase is necessary, and entrants may enter once per day on ESAB's website. Entrants may earn an additional entry by sharing the promotional page with their friends on Facebook.
"We currently have more than 23,000 likes on our ESAB Facebook page," said Sue Bartholomew, ESAB Marketing Director. "If we get to 25,000 likes by January 1, 2012, we will give one of our Facebook fans a Weld WarriorTM Elite Starter Kit."
The Weld WarriorTM Elite Starter Kit includes a New-TechTM 6-13 ADC XL Helmet, and ESAB Proban/Leather Jacket, Curved Mig Welding Gloves, ESAB Pro Clear Safety Glasses, ESAB Pro Smoked Safety Glasses, Easy-Lite striker, and an ESAB Tool Bag.
The 12 Days of ESAB Helmet-A-Day Giveaway offers entrants the opportunity to win the OrigoTM-Tech 9-13 helmet in glossy black, which has a retail value of $140.00. This helmet features an external shade adjustment between DIN 9 and DIN 13. The delay and sensitivity can be adjusted from inside the helmet. The lightweight shell offers superior face, head, ear and neck protection, which allows for welding in all positions.
ESAB Welding & Cutting Products is one of the world's largest and most experienced manufacturers of welding and cutting equipment and welding filler metals. Recognized as the technological leader in the industry, ESAB is committed to providing cost effective solutions for its customers.
For more information, visit the 12 Days of ESAB webpage http://www.esabna.com/12days or call 1-800-ESAB-123.
###