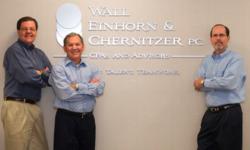 "Through our membership with CPAmerica, we look forward to leveraging expertise with other CPAmerica member firms to provide powerful solutions and resources to our clients."
Alachua, FL (PRWEB) December 19, 2011
Wall, Einhorn & Chernitzer, P.C., in Norfolk, Va., has joined CPAmerica International, a national association of independent, certified public accounting firms that provides shared best practices, networking opportunities and access to expert resources for member firms.
"We are very excited about our alliance with one of the world's leading CPA firm associations," said Marty Einhorn, Managing Shareholder of Wall, Einhorn & Chernitzer, P.C. "Through our membership with CPAmerica, we look forward to leveraging expertise with other CPAmerica member firms to provide powerful solutions and resources to our clients."
CPAmerica International is an exclusive association of more than 80 independent CPA firms across the United States. CPAmerica has affiliate members in more than 550 offices in 85 countries through its strategic alliance with Crowe Horwath International.
After undergoing a rigorous quality review for CPAmerica membership, only those firms with the highest standards in all practice areas are approved by members.
"We are thrilled to welcome Wall, Einhorn & Chernitzer," said Alan Deichler, president of CPAmerica. "Through their membership in CPAmerica, they will be able to connect with other large independent firms across the country, where they will be able to share expertise, best practices, and network as they continue to grow. After spending time with Marty and his team during our mutual evaluation process, I am confident they will very quickly become active members of our group."
About CPAmerica International:
CPAmerica is a national association of more than 80 large independent CPA firms that provides practice management support, continuing education, marketing, online services and other programs for the improvement of its member firms. In alliance with Crowe Horwath International, the association has more than 550 offices worldwide, and combined firm revenues of the alliance approach $3 billion. You can also find CPAmerica on Facebook (http://www.facebook.com/cpamerica) and Twitter (http://www.twitter.com/cpamericaintl).
About Wall, Einhorn & Chernitzer, P.C.:
Wall, Einhorn & Chernitzer, P.C., (WEC) offers a local touch with regional scope and national resources. Serving clients since 1989, we are today the largest public accounting firm headquartered in Norfolk Virginia and the third largest in the Hampton Roads region. Our specialized industry niches include: manufacturing and distribution; government contracting; construction; real estate; not-for-profit; employee benefits; cost segregation; wealth management; entrepreneurial services and consulting; and business valuation. These niches allow us to better serve the needs of our clients. WEC is honored to have been named as one of the 2011 Best Places to Work in Virginia by Virginia Business magazine; one of the Top 25 Best Places to Work in Hampton Roads by Inside Business and named to their "Hall of Fame" in 2010. In 2008, 2009 and 2010 we were named Best Firms to Work For by Accounting Today magazine.
###