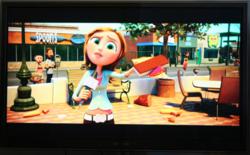 What are the differences between active and passive 3D TV technologies and why are they so hotly contested by the manufacturers right now?
(PRWEB) December 15, 2011
What are the differences between active and passive 3D TV technologies and why are they so hotly contested by the manufacturers right now?
With LG, Vizio and Toshiba offering mostly passive 3D and Sony, Samsung and Panasonic supporting active 3D TV. What will be the outcome from the 2011 holidays for each technology?
CEAG authors answer these and more questions. See the differences in the two technologies at active vs. passive 3D TV and compare the passive 3D glasses practicality with the more expensive and intricate active shutter glasses. Compare how the two technologies differ in the eye strain category and which is priced more reasonably. How about the value offered by each technology? What about quality differences in resolution and how that affects the viewing experience?
The introduction of these comparisons are the most thorough in the industry and compare such considerations as the number of pairs of glasses offered as well as the price by active and passive 3D television manufacturers, the qualitative differences in the two technologies with regard to technique, and the difference in the Hz rates required to produce full 1080p to each eye. Price differences are also discussed. The comparisons further answer questions about the technological differences in the emitters and the circular polarization techniques that cause active 3D televisions to be more expensive. Further examination points to possible reasons for quality differences, the authors point out – like is the need for higher refresh rates in active 3D televisions to allow each eye to see 1080p rather than the passive 540 lines of resolution.
Readers will also learn which 3D TV technology rates better from our professional reviewers Jack Burden, Robert Wiley and ISF Calibrator John Wirtz. The introduction of a 3D TV Ratings chart with a full breakdown of ratings for HD and SD Picture Quality, Features, and Value Ratings on a 10 point scale assists consumers in decision making. Another new development at the web site is the introduction of a best 3D TV recommendations page where the editors put their spin on their various favorites - regardless of technology.
About Consumer Electronics Advisory Group Inc
Consumer Electronics Advisory Group Inc. operates several premier buying guide websites, including 3D-tvbuyingguide.com, lcdtvbuyingguide.com, among others. Online since 1999, the company provides objective and thoroughly researched information through professional reviews performed by seasoned reviewers. Editors Robert Wiley and Jack Burden have been reviewing televisions since the first commercial plasma TVs hit the market in year 2000. John Wirtz has been calibrating televisions professionally for 10 years.  The company adheres to strict testing guidelines using the highest caliber equipment. Company web sites have more than 15 million unique visitors each year in the fast growth consumer electronics industry.
###