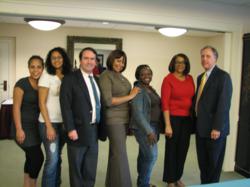 The course has inspired me to go further with my education
Old Lyme, CT (PRWEB) December 14, 2011
Five Certified Nursing Assistants received the new Geriatric Care Assistant Certificate after completing the inaugural 60-hour course offered by Saint Joseph College in West Hartford. The graduation ceremony was held at Masonicare at Ashlar Village in Wallingford.
Certificate recipients are Tiffany Lopez, Tanya Hewitt-Beckford and Lucy Gordon from Hartford; Brittany Clarke from Enfield; and Athena McLennon from Bridgeport.
The certificate program is a collaboration between SJC and the Institute for Senior Living Education (ISLE) http://www.islect.org an affiliate of the Connecticut Assisted Living Association (CALA) http://www.ctassistedliving.com
"ISLE is pleased to have collaborated with Saint Joseph College on this first presentation of the GCA Certificate Course," Thomas Gutner, ISLE Board Chair told the graduates. "We would love to have you stay connected as a means of supporting each other's advancement in the field." Further, "ISLE hopes to be able to harness the energy and enthusiasm of your experience in this course to offer the course to others in the future."
Brittany Clarke noted "the Geriatric Care Assistant Certificate Course opens your eyes a lot to the experiences and challenges older adults face."
"The course has inspired me to go further with my education," Athena McLennon added. Athena would like to pursue becoming a Registered Nurse (RN),
Tanya Hewitt-Beckford thought the course was "informative" and offered that she now has "more skills and greater knowledge" that will help her to better serve her assisted-living facility residents.
The six-week certificate course, which began on Sept. 7, was designed for those who are already Certified Nursing Assistants (CNA). The course, which will be offered again in 2012, teaches skills to provide "person-centered" care to residents in assisted-living communities, nursing homes, residential care facilities and older adults being cared for in their homes. The GCA program presents a compassionate and sensitive approach to supporting the developmental, nutritional, and psychological needs of geriatric or elderly people.
Gutner acknowledged Dr. Cheryl Braxton of Saint Joseph College who was instrumental in preparing and presenting the course, and Carol Robinson, Jo Anne Kuncas, Adrienne Perry, and Kelly Papa, who served as faculty for the course.
The students were further acknowledged for their achievement at the Connecticut Assisted Living Association Annual Meeting on December 7.
Founded in 2009, The Institute for Senior Living Education http://www.islect.org is the non-profit, charitable, educational affiliate of the Connecticut Assisted Living Association, http://www.ctassistedliving.com.
For more information contact: Christopher Carter, President, CALA, ph 860-434-5760,. cell (203) 530-3779or cpcarter(at)islect(dot)org
###