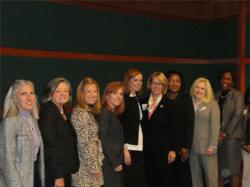 Atlanta, GA (PRWEB) December 13, 2011
WTS of Atlanta, the association for the advancement of women in the transportation industry, was asked by the White House's Office of Public Engagement to host a "Winning the Future" Roundtable last month, featuring Anne Ferro, Administrator of the Federal Motor Carrier Safety Administration at the U.S. Department of Transportation, during her visit to Atlanta. Many issues were covered at the roundtable, from federal funding of transportation projects to the American Jobs Act, but the emphasis of the discussion centered on the importance of educating the public on the infrastructure funding situation, possible funding solutions at both the federal and grassroots levels, and the future of the transportation industry.
In addition to the Honorable Anne Ferro, attendees at the roundtable included women from across the transportation sector of Atlanta, including Jennifer King, President of WTS Atlanta Chapter and Senior Transportation Planner at HNTB Corp. "This was a great opportunity for women leaders in Atlanta's transportation industry to get together to discuss key issues related to the industry," said King. The subjects covered included the following:
Funding Concerns

Foundational funding (having a budget in place that is consistent) should be a priority.
States need to know what to expect so that they can plan for spending.
The ARRA (American Recovery and Reinvestment Act) is focused on construction, not engineering.
A more reliable funding source needs to be established so that transportation projects, which are long-term in nature, can be implemented more effectively.
Planning on continuing resolutions doesn't work; states need to be able to depend on reliable funding.
As a donor state, Georgia only gets back 85% of funds. This needs to be adjusted for equitability across the country.
Funding needs to be considered for the long-term, for as much as 50 years out.
Education and Awareness

The general public and many legislators do not understand the infrastructure crisis we're in, so when solutions are proposed not everyone is on board.
As an industry, transportation agencies and experts don't do a good job of "telling the story," following up on the impacts of transportation projects, and reporting this to the public.
Federal responsibility should be developing a consistent, technically credible message that can be taken back and conveyed to the public at the local level
Automobile crashes are less sensationalized than airline accidents, despite far more annual deaths on the highway. The nation has become desensitized to the crisis.
Future of the Transportation Industry

There needs to be more programs to develop interest in the studies required for skilled transportation professionals.
Transportation careers are traditionally and predominantly filled by men.
Awareness about the opportunities in the transportation industry has to begin with parents and programs that build interest at schools at a young age.
"The Roundtable was very productive and gave us an opportunity not only to share concerns, but to brainstorm about some possible programs and initiatives we can think about at the local level," said King. "Anne Ferro asked for recommendations on how the US DOT could help solve the issues discussed as well."
Anne S. Ferro is the Administrator of the Federal Motor Carrier Safety Administration, an agency of the Department of Transportation. Administrator Ferro's vision is to eliminate severe crashes and fatalities involving large trucks and buses. Ms. Ferro serves as the head of an agency that carries out its safety mission through a strategic mix of regulations, enforcement, research, grants to states and public outreach. At FMCSA, Administrator Ferro is moving the Secretary of Transportation's safety mission forward to raise the safety bar for the motor carrier industry. Prior to her appointment to the FMCSA, she led the Maryland Motor Truck Association as its President and Chief Executive Officer from 2003 to 2009. Previously, Ms. Ferro served as the State of Maryland's Motor Vehicle Administrator from 1997 to 2003.
WTS International and WTS Foundation, headquartered in Washington, DC, has provided more than $1,000,000 in scholarships to deserving women throughout the transportation industry, supporting the next generation of transportation professionals and advancing the principles of WTS. WTS is committed to Advancing Women in Transportation through expanding existing scholarship opportunities to women pursuing transportation related degrees, providing and promoting more educational opportunities and career development to advance women in transportation, and initiating, sponsoring and publishing research related to advancing women in transportation. More information can be found at http://www.WTSInternation.org
Transportation YOU is a hands-on, interactive, mentoring program that offers young girls ages 13-18 an introduction to a wide variety of transportation careers. Through the program, WTS chapters work to make a difference in the lives of young girls by offering programs and activities that will spark their interest in all modes of transportation and encourage them to take courses in math, science, and technology, which are the stepping stones to exciting careers that can change the face of the transportation industry. For more information, contact Marcia Ferranto at 202-955-5085.
# # #