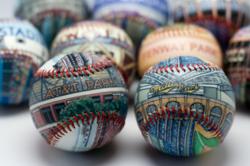 The painted baseballs of historical landmarks are best-sellers and have now become collector's items. They make a perfect gift for fans.
Bala Cynwyd, PA (PRWEB) December 14, 2011
With the holiday season in full swing and gift deadlines quickly approaching, miniaturist artist Emily M. Wolfson announced today that she is now offering her new Fenway Park 100 Year Anniversary and Summertime Santa designs of her Unforgettaballs!® painted baseballs for purchase, made especially for the 2011 season. Both are limited edition pieces, are available signed or unsigned, and include a protective, clear lucite display box. Each are available from $19.95 - $30.00 (plus shipping).
Wolfson is known for transforming ordinary white baseballs into remarkable original works of art with her Unforgettaballs!®, which represent a gift that celebrates the historic spirit at the heart of "America's pastime" while showcasing the cutting-edge technology of today. Both fun and inspiring, each design began as spectacularly detailed miniature paintings by Wolfson, which can be played, displayed, personalized and customized, making a treasured collectible and truly special gift for men, women, children, co-workers, grandparents, and just about anyone on your gift list.
With Boston's Fenway Park celebrating 100 years in 2012, Wolfson's new commemorative baseball has the front of Fenway Park on one panel, and the inside of the park on the other.
Wolfson says, "This is such a momentous milestone, especially in a time when new stadiums are continually being built. It's rare that a stadium will stay standing and used for this many years! The Fenway Park Anniversary ball is full of detail and beautifully colored, making it a historic piece!"
Wolfson's Summertime Santa ball shows a short-sleeved Santa hanging out on the beach in his sunglasses and flip flops, surrounded by presents and a piece of a Christmas palm tree while the reverse side has a snowman made of sand, and a festive sand castle.
Wolfson said that the Summertime Santa was a fun one to paint and that she could have kept adding little warm weather Christmas details forever.
A Great Gift for Anyone on the Gift List
"As with all of my other designs, these started as small, original paintings which were intended for the spherical format," says Wolfson. "My painted baseballs of historical landmarks, such as the Yankee Stadium baseballs, are my best-sellers and have now become collector's items. They make a perfect gift for fans along with the other designs of baseball fields, such as Shea Stadium, Wrigley Field and Citizens Bank Park."
Dramatically different from anything in the marketplace, Unforgettaballs!® represent the finest collection of artwork printed on genuine baseballs in the world. More than three-quarters of a million have been sold since Wolfson hand-painted her first white leather, red-stitched baseball with an intricate flag design as a gift for her husband in 1994. This launched Unforgettaballs!® and a whole new career for Wolfson, a former architect. Since then, the North Jersey native and working mother of two has created more than 70 paintings for design on a baseball, commemorating everything from stadiums to cities, holidays to hobbies, life-cycle events and more, along the way developing a proprietary printing process in order to faithfully replicate the exceptional detailing coloration of each original work of art.
Available through catalogues and fine retail stores as well as online, the full collection of Unforgettaballs!® can be viewed and ordered through the Company's website: http://www.unforgettaballs.com. Wolfson's painted Unforgettaballs!® baseballs are artistic renderings and are not related to MLB. For more information or to request a sample, please contact Conversation Pieces, Inc. at: (610) 668-3850.
###