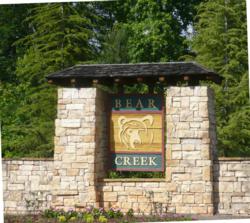 Land can be a tough one to sell in this market, but when an investment opportunity such as this one comes around, it's difficult for any investor to not get involved
Newport Beach, CA (PRWEB) December 14, 2011
In the suburbs about 25 miles outside of Atlanta sit two promising residential developments with an opportunity that many homebuilders, developers and real estate investors are finding difficult to ignore. The two groups of finished lots on the Freedom Realty Exchange (FRE.com) auction website are priced for a quick sale through a fair and competitive online bidding process.
The Bear Creek subdivision was originally developed in the late 90's and early 2000's with big dreams of becoming the next highly desirable community. But with poor planning and the swift downturn of the market, a large portion of this subdivision has now found itself on the virtual auction block at a fraction of previous asking prices.
As an alternative choice to a traditional real estate sale, online auctions can be particularly effective for sellers wanting to dispose of their property but are not willing to chase the market, which is what often occurs with distressed properties and depressed markets. An auction creates a trading platform that brings the buyer and seller together in such a way that fair market value is realized.
"Land can be a tough one to sell in this market, but when an investment opportunity such as this one comes around, it's difficult for any investor to not get involved", states LFC's Director of Operations Ryan Devin. "This is the type of auction that most buyers are waiting for and the response has been overwhelmingly positive."
This real estate auction features finished residential lots in the following communities:

Bear Creek subdivision in Douglasville offers 59 lots with an additional 268 acres of raw land for future development. This community presents plenty of development opportunity as Phase 1 and Phase 2 of the master-planned community have been developed and there is an existing golf course, although not currently in operation. Starting bid for this auction is $475,000.
West Village at St. Andrews in Winston features 33 fully developed lots with over half of the lots overlooking the golf course. St Andrews is a golf and country club outside of the Dog River Basin giving residents access to the 18-hole golf course, clubhouse, swimming pool and pool house, and the tennis courts. The minimum bid for this auction is $132,000, that's only $4,000 per lot.
It's evident by the minimum bids that the seller is very motivated to sell, and although the fair market value of the property today is unknown, buyers are given the ability to set the sale price by bidding and validating just what the market is willing to pay.
As with all of auctions on the Freedom Realty Exchange website, property research, due diligence and even bidding are conducted completely online, removing the inconvenience and unwanted pressure that comes with a traditional outcry auction. Interested buyers can access property documents and auction details by visiting FRE.com/114R2. Bids must be submitted by January 26th.
###