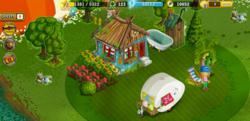 Vienna, Austria (PRWEB) December 13, 2011
Award-winning social fishing adventure Tight Lines Fishing has been awarded the Best Social Game of 2011 at the German Game Developer Awards held Düsseldorf, Germany. In stiff competition against Wooga's "Diamond Dash" and Bigpoint's "Skyrama", Tight Lines Fishing was voted Social Game of the Year for it's addicting fishing village adventure and heart-tugging story elements. Tight Lines Fishing has been available in English on Facebook for 8 weeks, where virtual anglers have hooked more than 4.5 Million fish!
After the announcement, Socialspiel CEO Helmut Hutterer went on to say, "The incredibly positive feedback we've received from gaming fans and the press has shown that we have touched a nerve with Tight Lines Fishing. By creating highly-immersive, quality experiences on social platforms around the World, we're showing the World that Vienna's game development industry is alive and well, in addition to proving stiff competition to some of the largest social games developers around the World".
With over 1,000 fans of quality video games in attendance, the 7th annual German Game Developer Awards filled the historic Altes Kesselhaus in Düsseldorf, Germany to celebrate, showcase and reward the best, brightest and most successful video games developed in the German-speaking market. Selected by tens of thousands of gaming enthusiasts and the Academy of German Game Developers, awards were handed out to the developers and publishers who excel in video game concept, story and immersion.
About Tight Lines Fishing
Tight Lines Fishing ( https://www.facebook.com/tightlinesfishing ) is an award-winning online adventure on Facebook. The game starts off with the player inheriting a small plot of land from which they set off in search of their Uncle, a fishing-legend who has gone missing. With the help of longtime family friend Marv, the player must use the art of fishing to discover, build and shape their World, building their fishing village and learning about hundreds of fishing species during every step of their adventure.
About Socialspiel
Socialspiel ( http://socialspiel.com ) is an angel-funded social games startup based in Vienna, Austria. Combining their years of experience at Rockstar Games and Deep Silver Games, with the love of engaging, story-driven experiences, Socialspiel is developing some of the most-recognized gaming experiences for social audiences on Facebook, in addition to the largest gaming platforms around Europe, Asia and the World.
###