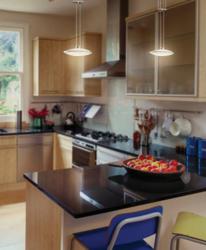 Getting organized will help you de-clutter the visual look of your home and de-stress your life.
Chatsworth, CA (PRWEB) December 29, 2011
With the New Year fast approaching, it's time to make a New Year's resolution and get organized. Whether you live in a rambling suburban home or a small urban apartment, making the most of your space pays huge dividends throughout the year. And it's not hard to do. Living efficiently and being organized means rearranging your home so that the items you use often or need to get at the most are always handy and conveniently stored.
With that goal in mind, these home organization tips from the interior designers at Lamps Plus, the leading online home décor and lighting store, will help de-clutter the visual look of your home and de-stress your life by placing frequently used items near at hand. So if you are asking "how can I get organized for 2012", these easy room-by-room decorating ideas will help get you started.
The Home Office
Organized spaces should be simple to use, allowing you to work efficiently. Nowhere is this more important than in the home office. For starters in this room, bookcases are essential. They can do double duty as storage space and can also display favorite collectables, framed photos or professional accreditations. Don't forget to leave room to grow. This allows you to add new books or work materials without disturbing the overall organization of the space.
On your work tabletop, a desk set or a group of decorative boxes can store everything from magazines to writing instruments and important bills. Photo boxes can be used to group piles of papers and prioritize your work. To make the work space even more effective, add a functional desk lamp or decorative table lamp. Proper lighting reduces fatigue and helps you work efficiently for long hours of time.
Seating is also an important part of feeling organized in the home office. Notes Lamps Plus designer Michael Murphy, "It's hard to be organized when you yourself are uncomfortable. So make sure to add a functional and stylish desk chair to your home office space. Models that have adjustable seats and lumbar support are the most desirable."
The Living Room
The living room is the center of the home, and can easily begin to look cluttered and disorderly. One living room organization idea is to use decorative shelves to group collections of knick-knacks, books and photos. Like in the home office, use boxes or storage bins to hide magazines and papers. Use bookends to books in a bookcase and add a thematic decorating touch to the room.
Like other rooms, the right lighting can make a space appear cleaner and more defined. If you have a more recent home or apartment, modern floor lamps are a good choice for adding lighting. Notes Lamps Plus designer Marcia Prentice, "Many of these designs have adjustable side lights or can be adjusted in height, making them ideal for reading or other light intensive tasks. I like to use them to add layers of light to a room at night, making room feel more orderly and cohesive looking." Traditional floor lamps or torchiere lamps offer similar functionality.
The Kitchen
The other center of the home is the kitchen. Even the largest kitchen can start to feel cluttered if not properly structured. If you have the right space, one kitchen organization idea is to add new storage and counter space with a portable kitchen island. Many feature a butcher block top, giving you even more food prep work space. You can fully maximize the kitchen island space by installing a pot rack chandelier over the island area. These types of chandeliers have hooks for hanging pots and pans and a rack shelf space for holding pot lids or other cooking items.
For everyday cooking items and kitchen tools, being organized means keeping them close at hand and ready to use. That can lead to clutter, however. Says Michael, "I like hiding things in plain sight, especially in the kitchen. I like to use wicker baskets on the countertop to organize my panty essentials, like spices and cooking oils. Hiding them in baskets keeps them handy, but hides them and disguises the clutter they can cause." Michael also suggests using a wall mounted towel rack. "It serves double duty in a kitchen – for display and to hang your dish towel."
The Bedroom
"We all want our bedrooms to be an oasis of calm and relaxation," notes Marcia. "but that's sometimes hard to achieve with clothes and other personal items cluttering up the room." One key to organization is to place items you know you are going to need on a daily basis close by. Says Marcia, "This means that you should reorganize your closet every season so that it's easy to get at the things you'll need. For example, move winter clothes and coats to the back of the closet during the summer. Reverse the process in the winter to keep the things you'll be wearing the most up front and accessible."
And place items in the same location each day. "Just having a place where you always hang your coat, store your shoes, or where you always set your house keys can make you feel so much more organized and together," says Marcia.
Marcia also likes the idea of using storage ottomans as furniture accents at the foot of the bed. "If you have the room, these look great and can double your seating and storage space. I use mine to store linens, blankets and extra pillows." On the bedside table, a swing arm wall lamp provides much-needed light and takes up no bedside tabletop space. Swing arm lamps come in many styles, including new energy efficient designs, some of which feature bright, long-lasting LEDs.
The Bathroom
Like the kitchen, the bathroom can often be a jumble zone, with large numbers of personal grooming items creating visual clutter. "It's important to have your soaps and grooming items close at hand," says Michael, "but it's also important to maintain a sense of calm and visual organization." Like in the kitchen, Michael uses baskets or decorative boxes to group items together, organizing them within easy reach, but keeping them out of sight. "Find a basket or box that fits the style of your bathroom, and then place it on a sink counter or shelf. It's also important to organize your bathroom drawers. Use drawer dividers and organizers, just like you would in the kitchen."
As in other rooms, layers of light in the bath equal efficient and effective lighting. For task lighting, you'll want to rely on sconces or bath bars placed around the main mirror and over the vanity sink. For general room lighting, overhead ceiling lights or even a mini-chandelier will help to evenly illuminate the room. "Mini chandeliers are very popular now. Designers are using them to accent vanity and countertops areas with a little shimmer and bling," says Michael. Finally, place a small accent lamp on a countertop for mood lighting and style. If you have little ones in the home, a night light will help illuminate the bath area at night.
The final answer to "how can I get organized for 2012" is to start small and keep organizing throughout the year. "Target one room per month to clean and organize, then move on from there," advises Marcia.
Lamps Plus encourages you to embrace your inner neatnik and use these ideas to stay organized all year round! For more decorating tips and trends, visit our Style Illuminated decorating ideas blog.
About Lamps Plus
For over 30 years Lamps Plus has been synonymous with excellence in the lighting retail industry. Established in 1976, Lamps Plus is the nation's largest specialty lighting company, with over 40 superstores throughout the western United States. Together with their retail stores and online business, Lamps Plus serves over five million customers each year with the largest selection of functional and decorative lighting fixtures, accessories, furniture, and home decor. This selection includes hundreds of products available exclusively from Lamps Plus. Services include free in-home lighting consultations, in-store lighting seminars and installation from expert, licensed electricians. American Lighting Association certified lighting designers are available to offer product recommendations and lighting advice in all our stores, by phone or online at Lamps Plus. Please contact PR(at)LampsPlus(dot)com for more information.
###