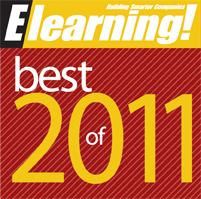 I am just fascinated with the set up of this environment and will be enjoying the exploration piece.
Corona, California (PRWEB) December 13, 2011
Elearning! Media Group (EMG), the voice of the $160 learning and workplace technology market, announced that the Enterprise Learning! Conference & Expo Encore (ELCE Encore) virtual trade show hosted on December 8, 2011, attracted 1,524 registered attendees. The audience was very active with 659 attending conference sessions, 790 downloading assets, accounting for a total of 1638 visits.
ELCE Encore was the 9th virtual event hosted by EMG and featured the 2011 Best of Elearning! honorees. Attendees were very interested in seeing the best in class solutions and participated in the new Collaboration Room to chat with invited speakers and experts. Overall, 66% of attendees were new to the ELCE event and 33% were ELCE Fall alumni, indicating a growing interest in new learning and workplace technology solutions.
"We continue our commitment to showcase real world case studies and learning and workplace technology practices that drive enterprise performance. The ELCE Encore event was very well supported by the EMG community of vendors, readers and buyers, reports Catherine Upton, Group Publisher, EMG.
According to recent research, 72% of executives were unable to attend a physical event over the last 12 months due to time or budget constraints. However, when offered a virtual option all, 100% of this audience, would attend the virtual event.
"Our virtual events provide executives critical information while overcoming the barriers of time and travel. Our main mission is to make our content available to executives when and where they need it whether online, in print, in person or virtually. We are happy to report our continued commitment to offering the only true hybrid learning events into 2012. Executives can continue to participate in the Enterprise Learning! Events either live in person or live online," continues Upton.
ELCE Encore Conference Program
ELCE Encore virtual event provided executives with an effective, affordable and accessible alternative event to learn, network and buy. ELCE Encore provided Web seminars and Collaboration Room sessions that highlighted trends, best practices and Best of Elearning! sessions as well as a "virtual" expo hall packed with resources and experts.
ELCE Encore sessions were also well attended with over 659 participating during the day. The Best of Elearning!: Development Tools session was most popular. Jerry Roche, Editorial Director, Elearning! Media Group hosted panelists from the Best of Elearning! Rapid Authoring and Development Tools. Each expert showcased the features and benefits of these solutions. Sessions addressing "Social Media in the Workplace" and the "Best of Elearning!: Virtual Classrooms," closely followed. Learning Executives are invited to view all Best of Elearning! and ELCE Encore Web broadcasts on-demand now and until March 1, 2012 at http://www.elceshow.com
New ELCE Encore Features
Unlike other virtual events, ELCE Encore also featured a new interactive Collaboration Room. The Collaboration Room acted as a virtual classroom, in which attendees could dialogue and chat with speakers. Michelle Winkley and Colleen Longstreet, Chief HR Strategists at OPHR Group, engaged attendees with advice during their live chat. The Collaboration Room also hosted hot topics including Spec'ing a Social Learning Network, Top Ten Requirements for your Learning & Talent Systems and a What's Next Chat with attendees. All of the industry hot topic discussions hosted inside of the Collaboration Room, are available on Elearning! Media Group's YouTube channel.
ELCE Encore also featured social media elements. Attendees could chat via Skype, post happenings to Facebook pages and tweet live inside of the virtual event. "Up to 71% of our audience is using or planning to use social media for enterprise learning," said Upton. Upton continues, "This enhancement allowed attendees to test virtual learning and collaboration within a high content and networked environment.
What Attendees Say:
"The sessions were really good. I like the format and can see why they are successful."
-- A. Picket, University of Illinois at Chicago
"I am just fascinated with the set up of this environment and will be enjoying the exploration piece." – V. Wentz, Learning Consultant
"Thank you for the conference attendance opportunity." – J. McCormick, Canon Business Solutions
"This is a very interesting format for a conference." – G. Orr, Texas Department of Family and Protective Services.
"This event has some great stuff!" – R. Nunn, BBVA Compass
Who Attends
The December ELCE Encore virtual event attracted high level executives across multiple industries. 60% management and above titles. The industry make-up reflects the "heavy users" of e-learning with attendees in public sector (32%), professional business services (13%), financial services (12%), post-secondary education (11%), health care (8%), state, local & county government (7%) and manufacturing (7%) leading the categories.
Eighty percent of attendees report buying authority and 72% report an active e-learning initiative. Attendees are purchasing a wide range of solutions including: Authoring tools (52%), Rapid development tools (32%), Social networking solutions (29%), Mobile technology and/or software solutions (27%), and Learning or talent management system (25%) among others.
Upcoming 2012 Events
Enterprise Learning! Summit DC, March 20-21, 2012
Theme: Building Smarter Organizations
Home to: Learning! 100 Conference and Government Learning Conference
http://els.2elearning.com
Enterprise Learning! Conference & Expo, Anaheim, CA Sept. 24 – 26, 2012
The Learning & Workplace Technologies Marketplace
Learn more at http://www.2elearning.com
To register for the upcoming events, visit http://www.2elearning.com. For companies wishing to present or sponsor an upcoming event, please call (888) 201-2841 x842 or e-mail sales(at)2elearning(dot)com.
# # #